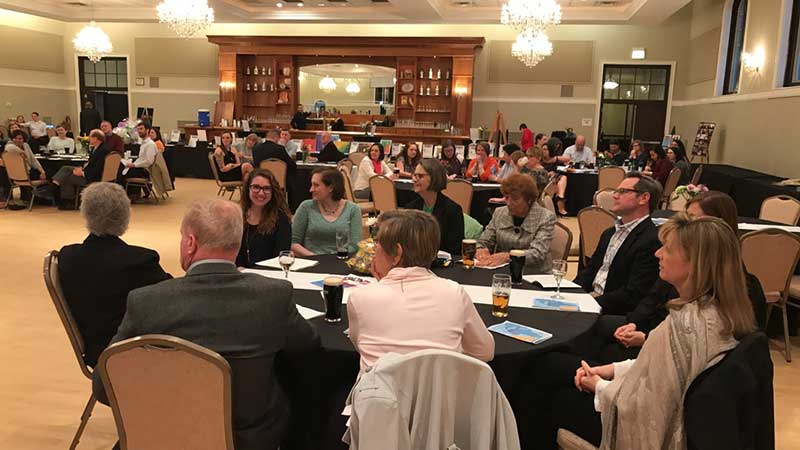 Submitted by Allison Beyer
Dominican Volunteers USA extends a heartfelt thank you to everyone who came out to support DVUSA at the 2017 annual celebration of Praedicare: Set the World on Fire on April 22. Current Dominican Volunteer Kayla Grodzicki eloquently reflected on her experience as a Dominican Volunteer serving at Sarah's Inn and living in the House of Connections community in Chicago. Dominican Sisters, former volunteers, friends and family shared an enjoyable evening of music, dancing, fun, and fellowship. Learn more about our current Dominican Volunteers and the organizations they serve here. Thanks for all you do to support DVUSA!
At the celebration Sister Bernadine Karge, OP received the Marcella Connolly, OP Leadership Award for her outstanding work as a lawyer in the field of immigration and justice. Please continuing reading below to learn more about Marcella Connolly, OP (written by Sister Bernadine Karge, OP).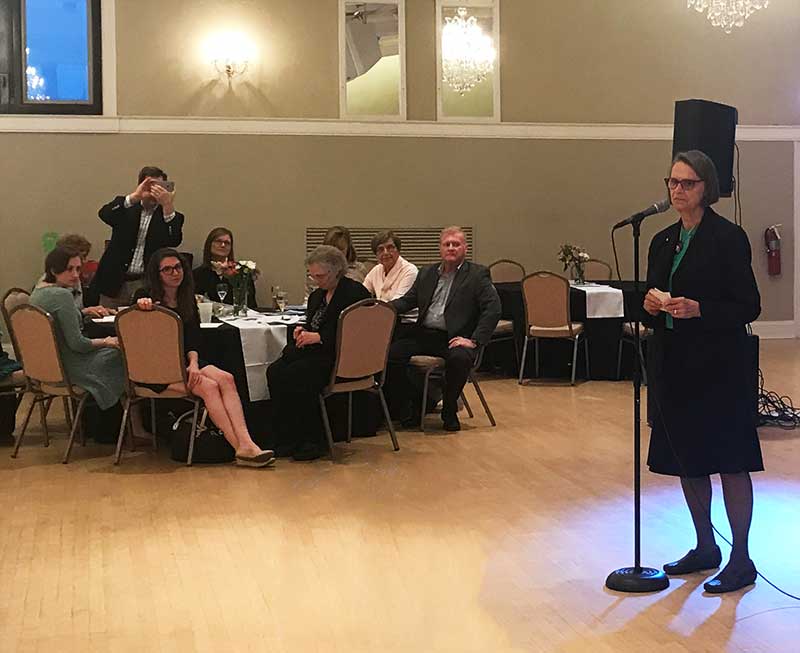 It is hard to believe that it is 44 years ago that S. Marcella Connolly OP (Sinsinawa) founded the Apostolic Volunteer Program in 1973. After nine years as a youth minister in Cochabamba, Bolivia, Marce returned to the states with a vision of creating a channel for ministry in the post Vatican II church for young adults. Initially, the Apostolic Volunteer (AV) Program recruited only women to live with and minister in schools and parishes staffed mostly by the Dominican Sisters of Sinsinawa. By the mid-1980's men were invited to participate in the AV program. Sometimes the men lived in the parish rectory and eventually were housed with the sisters and women volunteers.  Over the decades the AV program was blessed with women from other countries thus expanding the tent of Dominican volunteers. At the turn of the century, the AV program went intercommunity and metamorphosed into the DV-USA program –Dominican Volunteers-USA. Today many Dominican Congregations of women and some provinces of Dominican men participate in DV-USA.
When the AV's would have orientation at the Mound, Marce would be there and share her generous visionary spirit with the new members. Marce was an apostolic woman with a mission and a vision that was active 26/7 to spread God's life and energy. Her many years in education and administration at the elementary and secondary level made her sensitive to the needs of young folks seeking meaning and direction in life. She was invitational, inspirational, Inclusive and intense. Her Spanish language ability found her serving as an interpreter for parents, students, staff and patients in schools and hospitals.
Generations of volunteers carry on her vision of community, service, prayer and study as doctors, lawyers, educators, artists, priests, sisters, nurses, parents, social workers, etc. Sheila Geary, an AV at St. Basil School, Chicago in the1980's completed 25 years of teaching theology at Marian High School in Bloomfield Hills Michigan this Spring. At her celebration, Sheila shared this quote of Frederick Buechner, "The place God calls you to is the place where your deep gladness and the world's hunger meet."
On April 13, 2016, Marce completed her journey on this earth.  She lives in the fullness of God's life and love. How wonderful that the DV-USA program named an award in her honor. Presente Marce!