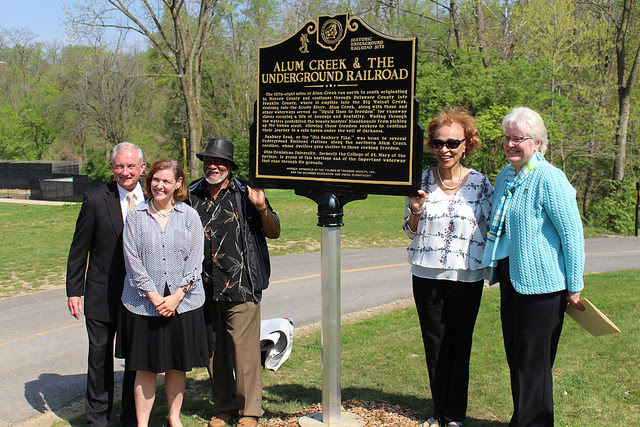 Columbus, OH – Representatives of the Dominican Sisters of Peace, Ohio Dominican University, the Columbus Recreation & Parks Dept., and the Friends of Freedom Society gathered on April 20, 2017 to dedicate a historical marker commemorating the importance of Alum Creek and other Central Ohio tributaries as routes used by escaped slaves during the Underground Railroad.

"Central Ohio's waterways, such as Alum Creek, were a vital part of the Underground Railroad," said Cathy Nelson, founder and president emeritus of the Friends of Freedom Society, a 19th-century historical research organization whose main focus is the Underground Railroad. "Historical markers such as this one are important reminders for those who use the Alum Creek Trail for pleasure, that runaway slaves used it to make daring escapes to freedom."
During the dedication of the marker, Sister Pat Twohill, OP, Prioress of the Dominican Sisters of Peace, said, "God's deepest desire for all human beings is that we live in the freedom of the children of God, and we admire the courage and perseverance of those who sought freedom and those that assisted them in their flight to freedom."
The historical marker has been placed along a tree-lined bridge and bike trail that runs through ODU's campus, in view of the Columbus, OH Congregational Headquarters for of the Dominican Sisters of Peace.
The Underground Railroad was the term used to describe a network of people who helped escaped slaves make their way to freedom in the northern states and Canada. The term gained currency in the 1830s as northern abolitionists became more vocal and southern suspicions of threats to their peculiar institution grew. The network of routes extended through 14 northern states and Canada, beyond the reach of fugitive-slave hunters. Those who most actively assisted slaves to escape by way of the "railroad" were members of the free black community – including former slaves such as Harriet Tubman – as well as northern abolitionists, philanthropists and church leaders like Quaker Thomas Garrett.
Dominican Sisters of Peace, members of the pontifical Order of Preachers, are a congregation of vowed Catholic women who strive to teach the love of Christ by living it among those we serve. The Dominican Sisters of Peace are present across the United States and around the world, and serve God's people in education, health care, spirituality, pastoral care, prison ministry, the arts, and care of creation. There are more than 400 sisters and over 500 lay associates affiliated with the congregation. Ohio Dominican University was founded by the Congregation in 1911.