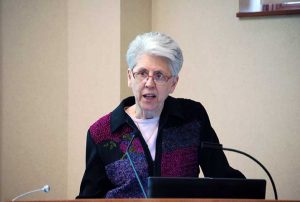 April 10, 2017, Adrian, Michigan – Shareholders in public corporations have a unique privilege, opportunity, and responsibility: to use their proxy ballots to shape the values and decisions of those corporations.

That was the message of Adrian Dominican Sister Corinne Florek, OP, Executive Director of the Religious Communities Investment Fund, in a live-streamed April 3 talk, "How One Checkmark Can Influence Corporate Policy." Her address was given in the auditorium of Weber Retreat and Conference Center on the Motherhouse campus of the Adrian Dominican Sisters.
She noted the strong economic influence that corporations carry: of the 150 largest economic entities, she said, 87 are corporations. Some 91 million U.S. adults own some stock, she noted, adding that most throw away or recycle their proxy votes rather than voicing their values.
"If you own shares, you have a voice – and I'm here today to ask you to use your influence to improve corporate decision-making and creating change in the issues you care about," Sister Corinne said. "After all, investments are your money and should be working for you."
Sister Corinne encouraged individual shareholders to consider the values they support and the industries they would like to avoid supporting, and to ask their financial advisers to craft a portfolio that reflects these choices. Then, as individual investors, they have the right to guide the corporation's decisions through their proxy vote.
"Proxy is just another name for a ballot that contains resolutions that are up for a vote," Sister Corrine explained, adding that proxies also include a slate of candidates running to serve on the corporation's Board of Directors. Resolutions can deal with issues such as environmental impacts and disclosure of the corporation's lobbying expenses and treatment of workers.
If shareholder resolutions receive support of 3 percent of the proxy voters, the corporation will remain in dialogue about those issues. "The proxy voting is the incentive for the corporation to stay in the dialogue," Sister Corinne explained. When shareholders don't vote at all, their votes are considered to be in favor of the view of the corporation's management rather than of shareholders who are trying to make changes, she added.
Using proxy voting to help bring more justice into the economy is not a new practice. Sister Corinne noted that the Adrian Dominican Sisters have been involved in economic justice through corporate responsibility for more than 40 years through the Congregation's Portfolio Advisory Board (PAB). The Congregation is also working with hundreds of other faith-based organizations, members of the Interfaith Center on Corporate Responsibility (ICCR), to ensure that the corporate world reflects values of justice, care for the environment, and concern for workers and low-income people.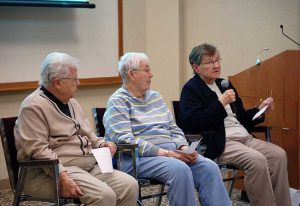 A panel of Adrian Dominican Sisters spoke on their own experience of voting proxies for the Congregation. Sisters Frances Lombaer, OP, Joan Marconi, OP, and Thérèse Haggerty, OP, encouraged listeners to vote their proxies, noting that the process becomes easier with practice. "We do proxy voting because we want to support the choices that the Congregation makes through the PAB, our Portfolio Advisory Board, Sister Thérèse said. "These choices are in line with our vision statements."
Sister Corinne concluded her talk by giving investors some ideas on how they can both diversify their portfolio and make a difference in the world.
Invest in high impact community development organizations that work with low-income people and communities. "This isn't high-risk investing," Sister Corinne said. "This is investing for high impact, which means that it's in low-wealth, low-income, low-asset communities, to help them, to empower them" to find security, livelihoods, jobs, housing and access to credit. She added that, over 40 years of investing, the Congregation has only lost less than 1 percent of its investment.
Invest in credit unions. Sister Corinne suggested taking at least some funds or assets – such as CDs or your savings account – and placing them in credit unions. "Nobody's making a profit off these financial institutions," she explained. "All the profits go back to making loans to the members." Credit unions serve populations such as low-income borrowers, people of color, women, distressed areas, and rural areas – areas that big banks don't always serve, she said.
"Please join us in this effort to create more justice in our economy," Sister Corinne concluded.
To watch her presentation, click here.