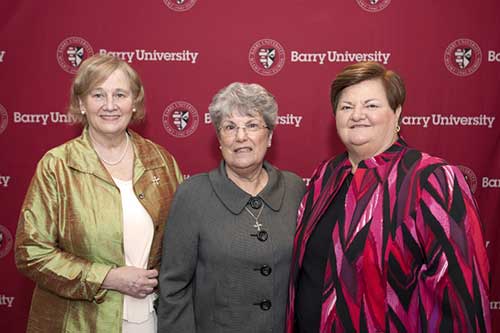 February 24, 2017, Miami Shores, Florida – Two Adrian Dominican Sisters – Peg Albert, OP, PhD, and Nancy Murray, OP – were among 10 to be honored as Distinguished Alumni of Barry University. The February 9 award luncheon, held at the Coral Gables Country Club, launched Barry's Reunion Weekend.

"There are lots of graduates of Barry, so it was an honor to be chosen," said Sister Peg in an interview. "It's affirming that some of the things you've done in your life, you've done well or you've made a difference in our world somehow."
In her brief acceptance remarks, Sister Peg expressed deep gratitude to her family and friends, to Barry University, and to all who supported her and the institutions where she served. She urged the Barry community to "stay on the path of mission. If you're true to your mission, everything else good will happen to you." She added, "When you graduate, you don't lose the mission. It just becomes more deeply a part of you."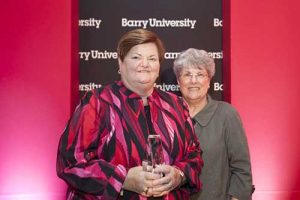 Sister Peg, President for the past 10 years of Siena Heights University in Adrian, studied for two years at Barry before entering the Adrian Dominican Congregation, then completed her bachelor's degree in sociology at Wayne State University in Detroit. She earned both her master's degree and her doctorate in social work at Barry, and completed post-doctoral work at the Institute for Educational Management at Harvard Graduate School of Education.
Sister Peg ministered for 23 years at Barry: as an associate professor of social work and a therapist for 12 years and as associate vice president for student services from 1988 to 1994, when she was named executive vice president. In 2001, she led Barry's School of Law, helping it to earn accreditation with the American Bar Association. Sister Peg was named President of Siena Heights in 2006.
Both Barry and Siena Heights Universities were founded and are sponsored by the Adrian Dominican Sisters.
In an interview in Adrian, Sister Peg said her years as a student at Barry gave her the opportunity to meet people from different cultures, religions, and ethnic groups. In her work at Barry, she found "a real vibrant community – a community that cared for one another … and reached out beyond itself to care for others." She has found a similar community at Siena Heights.
She added her time at Barry influenced her sense of ministry. "Hopefully it helped me to develop a generous heart," Sister Peg said. "I learned at Barry and I learn here to stand back and do all that I can, but ultimately everything is in the hands of God, that sense of trust that it's God's mission, not my mission. But I try to make God's mission my own."
Born in Wilmette, Illinois, Sister Nancy Murray graduated from Regina Dominican High School, also sponsored by the Adrian Dominican Sisters. She graduated from Barry with a bachelor's degree in theatre and a minor in education, and went on to earn a master's degree in pastoral studies from Loyola University, Chicago.
Sister Nancy has taught at all grade levels, from elementary to university, and has served as campus minister and as the pastoral associate of an inner-city parish. Most recently, she has traveled throughout the world, on five continents, in her one-woman show portraying the life of the great Dominican mystic and Doctor of the Church, St. Catherine of Siena. Barry recognized Sister Nancy especially for work in spreading awareness of St. Catherine of Siena.
In an interview, Sister Nancy recalled her time at Barry University, 1971-72, when she had the opportunity not only to study theatre, but to be involved in Barry's productions. Shortly after she arrived, she said, she was chosen to play Fruma Sarah and as a member of the chorus in Fiddler on the Roof. She also directed Arsenic and Old Lace, in which one of her theatre teachers played a role. "She was just as pliable and docile as the others in the cast," Sister Nancy recalled. "She let me know it was my job to be her director."
Speaking of Barry's influence on her life, Sister Nancy said, "The image of giving roots and wings is often used in parenting, but I use it in education. Education gave me roots, grounding me in knowledge, family, classmates and gave me the wings to take off and share the script of Catherine that has brought me around the world."