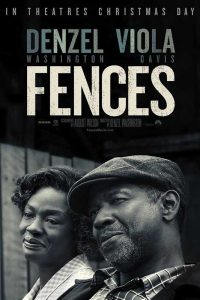 Movie Review by Fr. Tom Condon, O.P.
Fences is the screen adaptation of August Wilson's Pulitzer Prize winning play about Troy Maxson (Denzel Washington), a trash collector in 1950's Pittsburgh. The beginning of the movie is weighed down by a lot of dialogue between Troy and his friend Bono, as they finish their shift and make their way home. Like many screen adaptations of plays, I feared that Fences would be stiff and very "talky." Thankfully Washington, who also directed the movie, brings the characters to the back yard of Troy's modest house, where we are introduced to his wife Rose (Viola Davis); and then Lyons, his adult son from a previous marriage; Gabe, his mentally handicapped brother; and Cory, Troy and Rose's teenage son.

As the movie unfolds we find that Troy, born in Alabama, came north to Pittsburgh with his father as a boy. Troy was a gifted baseball player in the Negro league, but never made it to the major league because he was considered too old. A baseball hangs by a rope from a tree in the Maxson's backyard, and Troy hits it frequently with a bat, reliving his glory days, but still angry that he never made it to the majors.
Rose informs Troy that Cory is being considered for a football scholarship to a college in North Carolina. Rather than be happy for his son, Troy becomes upset, not wanting Cory to apply for the scholarship. Rose accuses Troy of trying to block Cory's success because Troy was not able to fulfill his potential as an athlete. Troy counters, saying that the college will only use Cory, and not give him an education.
Fences is one among seven plays written by Wilson detailing the Black experience in 20th Century America, all set in his home town of Pittsburgh. Wilson wrote the screenplay before his death in 2005. Fences is often an angry movie, with Troy arguing with his sons, Bono, and Rose.  The dialogue contains frequent use of the "N" word.
Washington and Davis reprise their Tony winning performances in a 2010 Broadway revival of the play. Both of them receive well deserved Oscar nominations. Washington is full of rage and regret, unable to give Cory the love his son so desperately wants. Troy pushes away those he loves the most, particularly his family and best friend.
For me, however, the most memorable performance in the film is that of Viola Davis as Rose. She is the emotional center of the film and the family. Rose loves her husband and family. In an emotional scene, she reminds Troy that she sacrificed for her husband and family. He wasn't the only one who suffered. Rose suffers even more later in the film when a family secret is revealed. Her relationship with Troy will never be the same. Rose takes on a new role she never imagined.
Even though it took a little while for the Maxson family drama to fully engage me, but when it did, I was absorbed in this powerful 20th Century tragedy. It's not lightweight, but the excellent cast giving life to Wilson's memorable characters make Fences well worth seeing.