Lenten Webinar Series with Carla Mae Streeter, OP
Theme: "Consciousness, Conversion and Grace"
February 21, 28; March 7, 14, 21, 2017.
6:30 – 8:00 p.m. CST
For registration and more information please see http://shalomplace.com/inetmin/lent2017.html

The Lenten season is a time for conversion, but we often wonder how to enter into our own transformation. The insights of Jesuit Bernard Lonergan can help us understand ourselves and how God heals us with our help. These five sessions will explore God's action and our intentional response.
Who Am I, Anyway? A Fresh Look at Being Human;
What is Consciousness? The Soul?;
Conversion and Healing: Getting Out of a Rut;
Can I Have this Dance? Being Grasped by Religious Love;
The Beautiful Human Being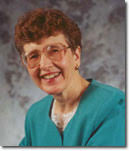 Carla Mae Streeter, OP is a Dominican of the Congregation of Catherine of Siena in Racine, Wisconsin. She is presently a professor (emerita) of Systematic theology and Spirituality at Aquinas Institute of Theology, a graduate school of Theology and Ministry sponsored by the Dominicans of the Central Province adjoined to St. Louis University in St. Louis.