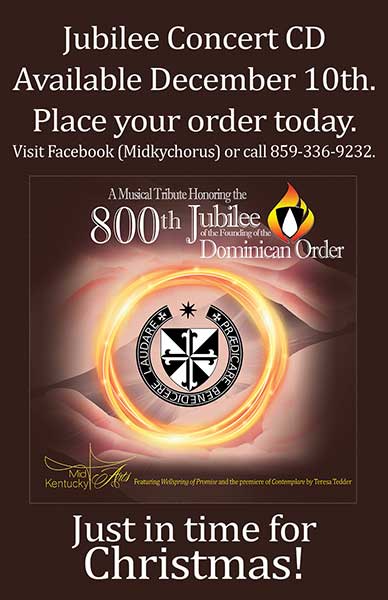 On October 16, 2016, the Mid-Kentucky Chorus at St. Catharine performed a musical tribute to honor the 800th Jubilee of the Founding of the Dominican Order. A CD recording of the concert is now available.

The musical selections were chosen to reflect the musical heritage of the Dominicans through the centuries. The concert began with two beloved chants Salve Regina and O Lumen Ecclesiae, from the 13th century and included music especially written to honor the Jubilee—Contemplare, by Teresa Tedder. Contemplare is a five-movement chamber ensemble work for strings, piano and men's ensemble. The five movements: Contemplare; Set the World on Fire; Contemplare; Benedicere; and Praedicare, captures the essence of the Dominican life.
Ave Verum and Panis Angelicus, texts by St. Thomas Aquinas, was performed along with, Laudare, Benedicere, Praedicare, the official hymn of the Jubilee. Wellspring of Promise, written by Ms. Tedder in 2015 and dedicated to St. Catharine was performed by the Kentucky International String Quartet and piano duo. A soaring arrangement of The Dominican Blessing, by Sr. Amy McFrederick, concluded the program.
CD is available at $15, 2 for $25. See order form for more information.