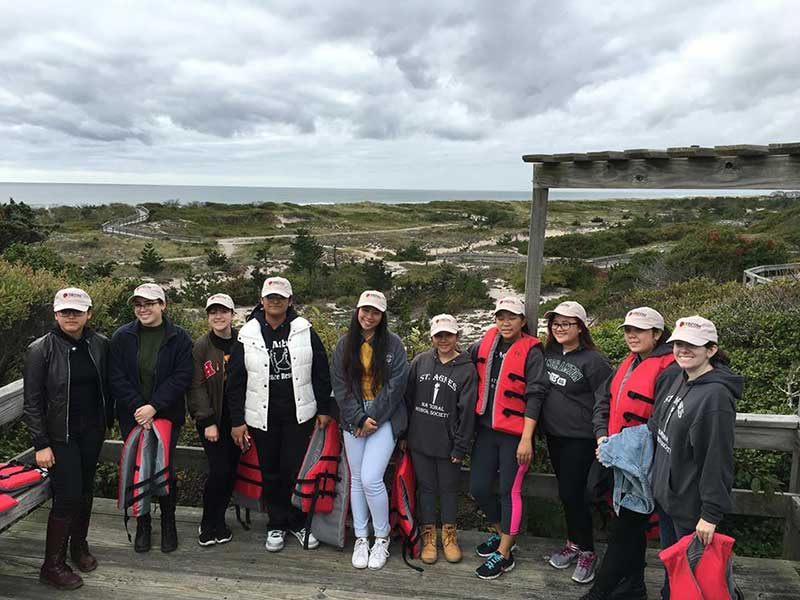 Submitted by Lena Pennino-Smith

As part of a new program called D.R.E.A.M. Big, St. Agnes Academic High School in College Point (a sponsored ministry of the Dominican Sisters of Amityville) and Molloy College in Rockville Centre are working together to pair students' passions with a taste of college courses. D.R.E.A.M. Big is an acronym for "Dominican Roots in Education at St. Agnes and Molloy College."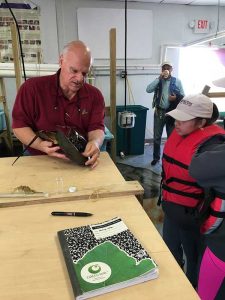 On a recent day in October, ten students with an interest in environmental science got the chance to visit Molloy College's CERCOM (Center for Environmental Research and Coastal Oceans Monitoring), a marine science laboratory in West Sayville, a monitoring station for marine life and water pollution as well as a breeding laboratory for horseshoe crabs.
The horseshoe crab – which resembles a walking army helmet – is a prehistoric creature that dates back to the age of the dinosaur. Students got an up-close look at the crabs at the lab. They were surprised to learn that Horseshoe Crabs make a huge medical contribution because its blue blood has the remarkable trait of finding bacteria and trapping it in gel-like clots, making it easy to trace toxins in pills or surgical implants. In the United States, thousands of horseshoe crabs are harvested each year, and their blood is partially drained. This has put a strain on their population since, 10 to 30 percent do not survive the process, according to studies.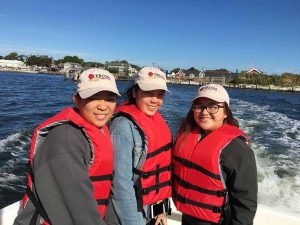 Also that day, the students cruised on the Great South Bay to Fire Island. For St. Agnes H.S. senior Jessica Tiwari, 17, from South Ozone Park, this was the first time she had been on a small boat, walked on the beach and seen horseshoe crabs. "I didn't think they would be that big," she said.
The students hope to take more trips to CERCOM and join a special program called the "Crab Club." As part of this club, students in their classrooms care for horseshoe crabs at their earliest stage of development by learning how to feed, monitor and maintain a healthy environment for these creatures. For more information, contact Dr. Tanacredi at CERCOM: jtanacredi@molloy.edu
The two schools will also partner for other opportunities including Building Your Future in STEM; The Humanities & Technology; TV Studio Workshop; Law & Order Seminar; Dance/ Theater/ Art Workshop, and Choosing a Career Path.