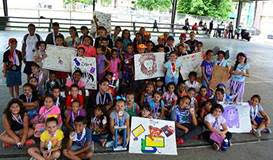 We had a very beautiful end of camp yesterday, June 29, as the children of the camp performed by singing and dancing. The theme of the camp was Zoology and the campers wore elephant ears, lion's
hair, zebra ornaments and more to make the performance colorful and happy and the camp a joyful experience. Their teacher is a young woman who is quite the choreographer and to her credit, the children respect and follow her instructions beautifully.

Yesterday, for the first time, we initiated a new recognition trophy in Honor of S. Ana Maria Adrover, who is the founder of  this very meaningful program for the children of the Public Housing Virgilio Davila. This recognition was given to a young woman who participated in the program since she was 8 years old. When she was in high school, she always worked as volunteer. Then when she entered College she was an Assistant tutor, then became the Supervisor of the tutors and the Director of our Summer Camp. This young woman and her twin sister both obtained a Masters Degree in Technology. We were pleased to present this award to Yessenia Rios as she has demonstrated her love for and her dedication to the children in the housing program and has followed S. Ana Maria's example.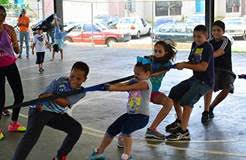 We at Casa Familiar in Bayamón are truly grateful to God and to the wonderful, generous people that made possible for 75 children ages 5 to 13 to enjoy being in a caring, safe environment during our Summer Camp during this month of June. We send a very special blessing to the children of St. Rose School in Massapequa Park for their support.