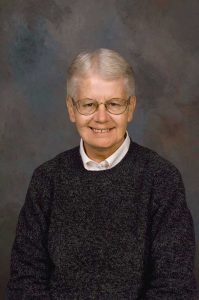 Niles, Illinois – Sister Sally Ormsby, OP, was recognized for her service and the contributions she has made to Notre Dame College Prep, an all-boys high school founded by the Holy Cross Brothers, where she has served as a religion teacher for nine years.
Sister Sally received the Rev. James d'Autremont, CSC, Award during the school's graduation ceremonies. Named after the first principal of Notre Dame, the award is given annually to a faculty or staff member who "best exemplifies Father D'Autremont's qualities of wisdom, strength, gentleness, and selfless service, a model for the Dons [students] of Notre Dame."

"All of this was a big, big surprise to me," Sister Sally said in an interview. "I had no idea." Upon receiving the award, she said, she expressed her deep gratitude to the faculty and staff, who had nominated her among other peers and ultimately chosen her for the award.
Sister Sally also received acclaim from another source – the members of the Class of 2016. "The seniors write about who their favorite teacher is and who they learn the most from," she explained. "I was privileged to be named their favorite teacher."
Sister Sally has been teaching morality and Catholic Social Teaching to the juniors. "The first thing I try to teach them is that morality is a life skill, and that everybody should try to give help to other people in any way they can," she said. "We all have that responsibility as adults."
A 2016 Golden Jubilarian – celebrating 50 years as an Adrian Dominican Sister – Sister Sally also received recognition from her community. Attending Notre Dame's graduation ceremony to celebrate with her were Sister Kathleen Klingen, OP, her Chapter Prioress, and Sisters Kathleen Waters, Mary Rita McSweeney, and Cyrilla Zarek.
Before beginning her ministry at Notre Dame, Sister Sally served for 19 years at Regina Dominican High School, an all-girls college preparatory school sponsored by the Adrian Dominican Congregation and located in Wilmette, Illinois, north of Chicago. For the first 12 years, she served as Assistant Dean of Students and for the remaining seven was the Dean of Students.