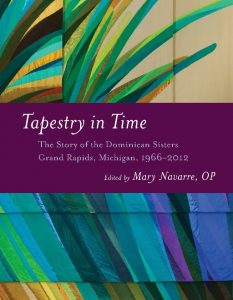 DESCRIPTION 
Vatican II radically transformed the Roman Catholic Church, including convents and monasteries, around the world. In this book several Dominican Sisters tell candidly what life was like for them in Grand Rapids, Michigan, during the decades after Vatican II. The story they tell is one of change, growth, and empowerment.
Organized around the four essentials of Dominican life — prayer, study, common life, and ministry — Tapestry in Time weaves together written and oral histories from the Sisters themselves to describe how the introduction of then-radical changes such as worship in the vernacular provided the thrill of something new and meaningful — but also how the move toward greater inclusivity led to challenges and opposition.

REVIEWS
Sr. Ann Willits, OP, preacher, poet, writer, retreat leader:
"A tapestry in time was being stitched as the years of renewal were being lived by the Dominican Sisters of Grand Rapids. Now is the time to celebrate the hanging of the tapestry for all to see! A remarkable story."
Margaret Susan Thompson, PhD, professor of history and political science at Syracuse University:
"An important contribution to the history of the life of women religious since Vatican II. Readers will get to know a remarkable group of Sisters — women of deep prayerfulness as well as ministerial creativity and devotion . . . While much of their story is representative of what many communities have experienced over the past half century, we also come to appreciate them as distinctly themselves and as distinctly Dominican."
---
Tapestry in Time
The Story of the Dominican Sisters, Grand Rapids, Michigan, 1966-2012
Mary Navarre, O.P.
PAPERBACK; Published: 7/22/2015
ISBN: 978-0-8028-7255-5
336 Pages
Trim Size, in inches: 7 x 9
125 photographs
$20.00
Order from www.eerdmans.com
or
Marywood Bookstore
2025 E. Fulton St.
Grand Rapids, MI 49503
616.514.3312