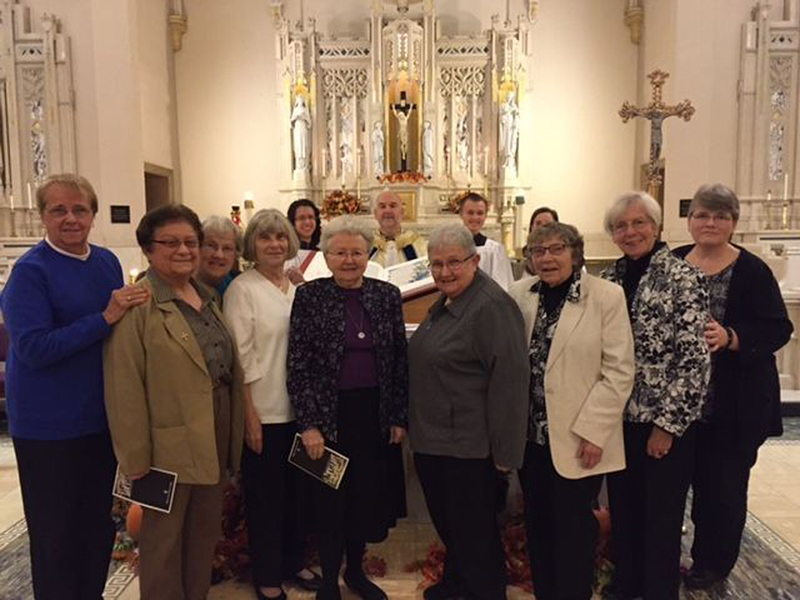 NEWBURGH, N.Y. – December 2015 – Members of the Dominican Sisters of Hope and the Mount Saint Mary College community gathered recently to celebrate the beginning of the 800th Jubilee Year of the Order of Preachers.
The Solemn Vespers service was held in the Mount's Chapel of the Most Holy Rosary in the Dominican Center.
St. Dominic established the first community of the Order of Preachers in the 13th century.
The Dominican Sisters founded Mount Saint Mary College in Newburgh, N.Y. in 1959, using as a guideline the four pillars of Dominican life:  study, prayer, service, and community.
"We are proud of the deep spiritual and intellectual roots from which Mount Saint Mary College has sprung and is continually nourished," said Charles Zola, philosophy and religion chair and director of the college's Catholic and Dominican Institute. "We all are indebted to the great sacrifices and example of [the sisters] who founded the college."
Former Mount communications professor Sr. Catherine Walsh, OP, who has been a Dominican Sister for more than five decades, delivered the homily at the Solemn Vespers.
"Our right work is to praise, to bless, and to preach. This is our mission," she said. "Preach goodness. Preach peace. Preach from study and contemplation. Preach from prayer and community. Preach justice. Preach from a dialogue with our world. And preach with the mercy and compassion St. Dominic insisted on."
Walsh entered the Dominican Sisters after high school and graduated from the Mount with a degree in English and certification in education. In the college's division of arts and letters, she was responsible for developing the media studies major and implementing the public relations major. She retired as division chair.