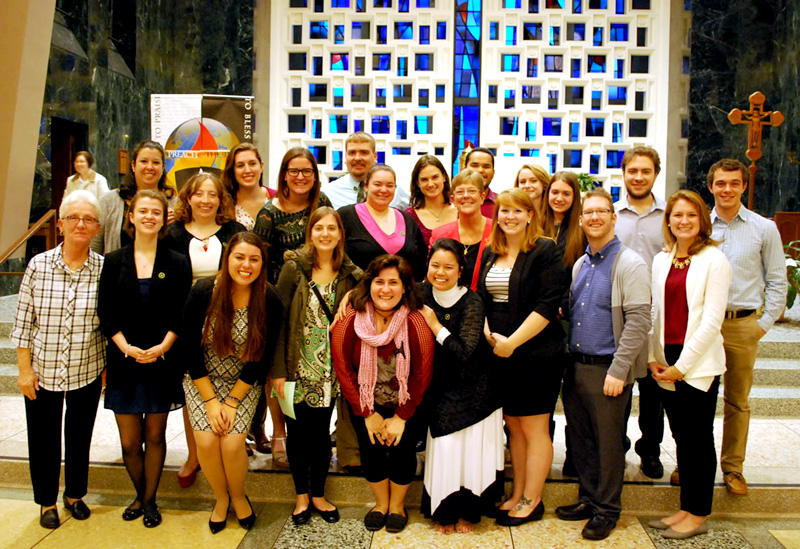 By Sister Gina Fleming, OP (Amityville)
As part of our celebration of the 800th Anniversary of the Order, this past Sunday our Dominican Young Adult chapter from Molloy College, Rockville Centre, New York, presided over our Sunday vespers service.
There was a great deal of energy in the chapel as well as anticipation as these young people began the service. As the entrance antiphon was being sung and the presider and person giving the reflection were processing into the chapel it was clear that this was going to be something special, and indeed it was.
The voices of the young women who were leaders of song were beautiful as they led us reverently in all of the songs as well as the chanting of the psalms. As I looked around the chapel at the sisters and associates as well as the parents of the student participants who were in attendance, I could see how moved they were by these young people.
"This service reminded me of the days when we were the people leading the vespers services. It was very touching to see how these young people reverenced the service and their parts in it," one sister said.
After one of the young adults read the scripture, Andrew Abberton, president of Dominican Young Adults USA, gave a reflection. "It was powerful, and challenging as well. He spoke as if "Dominican" were part of him," said another sister.
As part of the service, the young people who were to become new members of Dominican Young Adults, Molloy Chapter as well as those who were renewing their commitment to the organization stood up and professed their allegiance to the organization. At that point the entire congregation responded by resoundingly accepting their commitment and encouraged them to "stay the course." Twenty-five young people attended the service all either committing or recommitting to membership in the organization.
I can probably say with some certainty that there were few dry eyes in the chapel. It was so moving to see how these young people have embodied the Dominican spirit. They have claimed their place in the Dominican Family and they are very proud of it. Oh yes, my sisters, the Dominican Charism is alive and well in our young people and they will pass it on long after we are gone! That is a great sign of HOPE for our future! Our beloved charism is in "Good Hands."