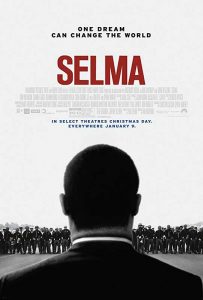 In 1965, a Black woman in Selma, Alabama, named Annie Lee Cooper (Oprah Winfrey) went to register to vote. She was asked ridiculous questions by the clerk, including the names of all the county judges in the state. When she could not answer, she turned away and walked out. "Selma" opens with a dramatization of this event. In one brief scene, director Ava DuVerney and writer Paul Webb make the case for a Voting Rights Act.
The frustration of Ms. Cooper and many others brought Martin Luther King (David Oyelowo) to Selma in the spring of 1965 to organize a march from Selma to Montgomery to raise awareness for the need for the Voting Rights Act. As Stephen Spielberg did two years ago with his film "Lincoln," DuVerney and Webb decided to focus on a particular episode in King's life, rather than do a standard biography. "Selma" brings out King's many gifts: his political savvy, his theological mind, his brilliant oratory, along with his compassion for the suffering of others, and his devotion to his wife and family.

Even though "Selma" shows us the public Martin Luther King, I most appreciated the private moments in the film. In one scene, Coretta speaks to her husband about the constant fear that someone would harm their children. We see Martin deep in thought and prayer. Memorably, we see King arguing with President Lyndon Johnson (Tom Wilkinson.) LBJ exhorts MLK to have patience and wait for another time to push for the Voting Rights Act. After his experience with Annie Lee and others across the South, King knows that he cannot wait.
King is a man of non-violence. Yet he confronts hatred and bigotry head on, inviting confrontation. He knows these confrontations may well be the only way to change hearts and minds. At the same time, these moments weigh heavily on him. Martin knows they are necessary, but also knows that, in provoking conflict, he puts his supporters in danger.
I appreciated the fact that "Selma" shows the support King received from priests, ministers, and religious in Selma. One of my earliest memories of the Civil Rights Movement was watching priests and sisters crossing the bridge in Selma, along with Martin Luther King and his supporters.
"Selma" provides us with a snapshot of a pivotal moment in American history. It is masterful in every way. It's amazing that this is only DuVerney's second feature length film. Webb's screenplay is also excellent. While some historical films come across as wooden or preachy (in the bad sense of the word!), Selma is fresh and vibrant. British actor Oyelowo gives a fine performance as King. He does not mimic him in any way, but seems to inhabit his soul. Carmen Ejoyo is also very good as Coretta Scott King, supportive wife and mother.
The tensions within the movement are not ignored. Malcolm X makes a brief appearance. Martin and Coretta distrust him, stung by his negative comments about Martin's way of nonviolence. Students from the Southern Christian Leadership Conference (SCLC) want to do more grass roots organizing, and believe that King is pushing too hard. All along the way, we sense that the FBI, under the leadership of J. Edgar Hoover, is tracking every movement and listening in to Martin's conversations. We also see George Wallace (Tim Roth) in a few pivotal scenes, including a memorable conversation with LBJ at the White House.
It's been 50 years since the march from Selma to Montgomery. I'm glad that this is the occasion for the first movie to focus on Martin Luther King. I believe it will be an American classic, essential viewing for students in the future. I hope it receives many Oscar nominations, including Best Picture, Actor, Supporting Actress, Director and Screenplay.
Tom Condon, OP