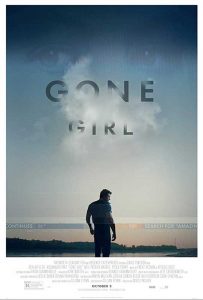 David Fincher is a talented director who has made good movies about unlikable people ("The Social Network"). He also directed some episodes of a good TV series about unlikable people ("House of Cards"). Now Fincher directs another story about unlikable people, "Gone Girl." These may be the worst yet. You wouldn't want this couple moving into your neighborhood!
Gillian Flynn adapts her best-selling novel for the screen. It is set in a small Missouri city on the fifth anniversary of Nick and Amy Dunn. Nick goes to work on an ordinary summer morning at the bar he manages with his twin sister, Margo. A neighbor alerts Nick that something seems amiss at home. Nick returns home to find a smashed glass-top table and a speck of blood on the cabinet. Amy is gone. The police begin to investigate, and Nick becomes the prime suspect in the disappearance and perhaps murder of his wife.

"Gone Girl" has plenty of plot twists to keep the audience guessing along the way. "Gone Girl" has a film noir quality to it: a dark, morally ambiguous story featuring characters and few, if any, redeeming qualities. Despite their bleakness, and lack of happy endings, the best of the 1940s film noir's were entertaining. There's usually a poor schmuck with whom the audience can empathize, despite his or her tragic flaw.
Unfortunately, I was not captivated by "Gone Girl." Because I had read Flynn's book I knew the surprises that were coming. More than that, though, there's very little warmth among the characters. The genuine love between twins Nick and Margo is the exception to the cold-blooded characters. Ben Affleck gives a good performance as Nick, who continues to proclaim his innocence despite mounting evidence to the contrary. Rosamund Pike plays the beautiful but calculating Amy, a character who could have stepped out of a Hitchcock movie.
Be warned: As in any film noir, there is sex and violence. There isn't a great deal of either, but when they come, they're rough.
"Gone Girl" has been a hit with critics and audiences this fall. Despite its surprises, I just found it unpleasant, and was glad when it was over.
Tom Condon, OP