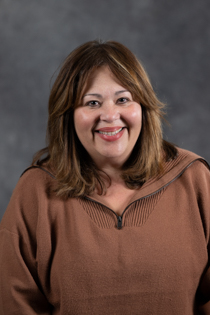 Adrian Dominican Associate Nery Cummings is, in many ways, a bridge. As a professional American Sign Language interpreter, she links people who are deaf with members of the hearing community.
"It has taken me a lot of places," Nery said of her profession. She works in a relay service, interpreting phone calls between people who are deaf and hearing people. In addition, she offers interpretation in hospital emergency rooms, at a parish for people with disabilities, on cruises, and even at fund-raisers for Presidents Bill Clinton and Barack Obama. "It was the best profession I could pick," she said.
But she wasn't always proficient in American Sign Language or English. A native of Puerto Rico and the second of five children, Nery moved to the Miami, Florida, area with her family when she was in the ninth grade. "I didn't speak English very well," she said, adding that, because of the number of Hispanic people in Miami, that was not a problem. The family's move to Tampa, Florida – where more people speak English – challenged her to learn the language.
The daughter of a deacon, always active in the church, Nery turned to God when she began college, seeking to know God's direction in her life. "I picked up a school catalog and saw sign language," she recalled. "I didn't even know what it meant." Yet, she said the sign language program was the answer to her prayer. As she studied American Sign Language, she also improved her English and set the course for her profession. "I fell in love with the language" and with the culture of people who are deaf. "It was like going into a new world."
Nery met the Adrian Dominican Sisters while earning her master's degree in pastoral ministry at St. Thomas University in Miami. She was so impressed that, about 21 years ago, she attended two Come and See discernment weekends in Adrian. Yet, she answered another call. While working at a high school, she met her husband, Brian Cummings. When she introduced Brian to the Sisters, they suggested she become an Associate – which she did in April 2004. Nery now serves on the Development Advisory Board for the Adrian Dominican Sisters.
Nery said she has learned much from her involvement with the Adrian Dominican Sisters. "I learned to walk in the path of truth," she said. "My parents taught me that, but the Sisters reinforced it. … I've learned to stand up, not to stay quiet, and to speak the truth and work for justice."