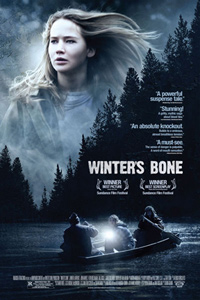 Winter's Bone
Winter's Bone has to be one of the bleakest movies I've ever seen. The film is set deep in the Missouri Ozarks, focusing on the impoverished residents. Even the young look spent. Life has not been kind to them. Abandoned cars dot the landscape; dogs bark and growl. It's no place you'd want to go on vacation this summer!
Among the residents of the Ozark community are the Dolly's: 17-year-old Ree cares for Sonny and Ashlee, her younger brother and sister, along with her mentally ill mother who is unable to speak. They live in a tiny, cluttered house. The children sleep on a sofa and chair. Ree has to ask neighbors for food to feed the family. I assume that Ree had to drop out of school to care for her family when her father, Jessup, left. As is the case with many poor children, Ree has had to grow up much too fast, leaving the joy and innocence of childhood far behind.
Early in the film, the sheriff informs Ree that Jessup is scheduled for a court appointment, charged with making and selling crystal meth. Ree learns that Jessup put the house up for bail. The sheriff informs Ree that she had better make sure that her father shows up for his court date, or they will lose their house.
Not knowing where to start, Ree begins to inquire among neighbors and acquaintances. Soon she finds that there is a code of silence among the mountain people. Ree is constantly told to leave the homes of some of the scariest looking people you would ever meet, and threatened if she continues to ask questions. Ree knows full well that they know more than they are willing to tell. Eventually Ree gains an ally in her uncle Teardrop, who is also a scary character. At first Teardrop refuses to help Ree. However, when he sees her persistence, and the potential danger she faces, Teardrop joins Ree in her search.
Ree is an amazing character, wise beyond her years, who puts aside her own fears, and even safety, to search for her father, out of love for her family. She goes where she does not want to go, gaining courage and determination along the way. Ree's unselfish trek is truly Christ-like: she is thrown out of houses, ridiculed, spit upon, and beaten. Undeterred, she continues in her search for truth.
Jennifer Lawrence plays Ree with courage and determination. This young actress in her first major role gives an outstanding performance. Even though the year is only half over, she is almost certain to be nominated for an Oscar next year. Lawrence shows tenderness dealing with her helpless mother and siblings. She is frightened at the prospect of searching for Jessup, yet courageously goes about the search for her missing father without any self-pity.
Based on a novel by Daniel Woodrell, Winter's Bone is directed by Debra Granik, who also co-wrote the screenplay with Anne Rosellini. They get all the details right in this harrowing tale, especially the haunting faces of the mountain people. As grim as the subject matter and characters are, Granik and Rosellini keep the viewer involved and interested, until the truth is revealed. The film is also greatly enhanced by its simple score, composed by Dickon Hinchliffe, combining bluegrass and spiritual music to express the hopes and dreams of these poor people.
In a summer full of action heroes, Ree is a welcome alternative for the discriminating audience. Her commitment to family and courageous search for the truth will remain with you long after you leave the theater.
Tom Condon, OP