The Social Network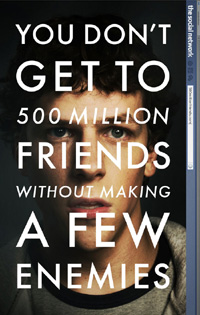 The Social Network chronicles the inception of Facebook, the enormously influential social networking site. Today Facebook has over 500 million subscribers worldwide. It's hard to imagine that Facebook has only been around for seven years.
The film tells the story of Mark Zuckerberg, a Harvard undergrad, who came up with the original idea behind Facebook as a way for Harvard students to connect with each other. The great irony exposed by the film is that Zuckerberg, the man behind social networking, has very limited social skills himself. In the opening scene, he insults his girlfriend at a bar. Then he goes home and blogs about her in very negative terms. Throughout the film, Mark continues to attempt to connect with her, without ever understanding why she wants nothing to do with him.
Much of the film is told in flashback from a hearing in which Mark is being sued by his former best friend Eduardo Saverin, who initially financed Facebook, and the Winklevoss twins, Cameron and Tyler, who claim that Mark stole the idea behind Facebook from them.
Even though he is socially immature, Mark's brilliant conceptual mind is always creating something new, idea building upon idea. He becomes known on campus, and, as his success spreads, fame and fortune enter his life. Mark, the social outcast, suddenly finds that attractive women are interested in him, and wild parties (how did this movie get a PG-13 rating?) abound. Sean Parker (played by Justin Timberlake), who made (and lost) a fortune developing the music sharing site Napster, becomes interested in Mark's project, much to the disapproval of Eduardo. Believing that Sean has much to offer him and the fledgling Facebook, Mark moves out to Silicon Valley to be closer to Sean and his connections. Never approving of Sean's risky ideas and fast-paced lifestyle, Eduardo and Mark distance themselves from each other to the point in which Mark and Sean force Eduardo out of Facebook.
Directed by David Fincher (The Curious Case of Benjamin Button, Fight Club), and written by Aaron Sorkin (best known for TV's The West Wing), The Social Network is fast paced with rapid-fire dialogue. Yet, with all the talent involved, I found it difficult to become involved with the unlikable characters and the cold tone of the film. It's interesting to see the story unfold, but I was never drawn in. Eduardo (well played by Andrew Garfield) is the most sympathetic character, who is loyal to Mark for so long, not believing that his friend would force him out. "I'm your only friend!" Eduardo cries out to Mark, in the most emotionally wrenching moment in the film.
Jesse Eisenberg plays Mark like a boy genius, both surprised and delighted by his fame and fortune. He is the central irony of the film: the genius behind the social network has no real, live social network of his own. The final scene shows Mark in the hearing room, rich and brilliant, bruised and battered by the lengthy legal battles with enemies who were once friends. Like Michael Corleone at the end of Godfather 2, Mark is victorious but dreadfully alone. The creator of Facebook looks like he hasn't a friend in the world. Ah, the irony of it all!

Tom Condon, OP