City Island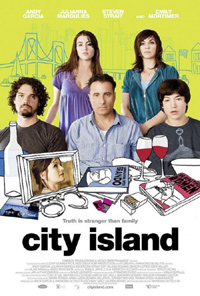 City Island is a wonderful family "dramedy" starring Andy Garcia as Vince Rizzo, a New York correctional officer who longs to be an actor. Vince begins taking acting classes, but is embarrassed to tell his family. He makes the excuse that he is playing poker. His wife, Joyce (Julianna Marguiles) is skeptical of the poker games, and wonders what Vince is doing. Meanwhile, their daughter Vivian was suspended from college for smoking marijuana. She doesn't tell her parents, and works as a dancer in a strip club to make money until she can return to school. Finally their son Vinny is attracted to overweight women, including the one who lives next door.
One day in the correctional facility, Vince encounters Tony, a young man jailed for car theft. Vince has an intuition about Tony, and discovers he is his son. It turns out that Vince had a relationship with Tony's mother and left her when he discovered she was pregnant. The woman has since died and Tony never knew his father. Vince is allowed to take Tony home on parole to live with him for 30 days.
Like a French farce, City Island becomes more complicated as it goes along. Vince confides in fellow acting student Molly (Emily Mortimer). When Joyce learns about Vince and Molly, she's convinced that they are having an affair. Meanwhile Joyce finds herself attracted to sensitive and handsome Tony, having no idea that she is his stepmother! When all this is revealed, Molly exclaims "This is a little Greek!"
At its heart, City Island is about telling the truth about who we are. Vince keeps his classes secret, as well as his relationship to Tony. Had he (and the rest of the family) been up front with these truths, a lot of suspicion, jealousy, and embarrassment would have been spared. Vince finally admits that he was "waiting for the right time" to tell Joyce. Circumstances force the revelations at the end of the film, in a fine scene in the street in front of their house.
City Island is a very Catholic film. All the major characters are flawed, yet they all desire the good for their family. The screenplay (written by Raymond de Felitta, who also directed the film) presents them sympathetically. Each one is a combination of grace and sin, burdened by guilt and shame they can't escape. Finally the truth sets them all free. They are able to forgive one another and come closer together as a family. City Island also shows the roles that outsiders Tony and Molly play as catalysts, helping the family deal with its own truth.
City Island reminded me of Moonstruck, the great comedy from the 1980s dealing with many of the same themes: honesty, betrayal, family secrets, and ultimately forgiveness and truth-telling within the context of family. City Island may not be the classic that the wonderfully written and acted Moonstruck has become, but it's a worthy successor.
Another refreshing thing about City Island is its focus on an ordinary, flawed, working class family. Redemption can come in the midst of a family like the Rizzos, rather than through a comic book superhero with superhuman powers. That's good news for us all!
Just when I was ready to give up on movies, this gem comes along. Of course it's a low budget independent film; it's hard to imagine anything this good coming from a major studio anymore without explicit sex, violence, special effects, or big stars in it.
I loved City Island and hope you will be able to catch it in theaters or on DVD.
Tom Condon, OP