The Princess and the Frog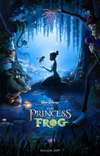 The latest animated Disney film has received a lot of attention for the fact that it features the first African-American female lead, Tiana. She is now poised to take her place of honor among all the other Disney heroines, from Snow White to the Little Mermaid to Pocahontas and Mulan. She is beautiful and spirited, in the best Disney tradition.
The Princess and the Frog is also notable in that, with computer animated films being the current trend, it goes back to the hand-drawn (although certainly computer enhanced) animation, which was the norm for most of the 20th Century. Set in early 20th Century New Orleans area, Princess is simply breathtaking in its beauty, from the French Quarter to Uptown mansions, from trolley cars to riverboats, from the swamps to a Mardi Gras parade. New Orleans never looked better. The film is as much a tribute to this wonderful city, with its food, customs, music, people, and dialects as anything else.
Tiana grows up the daughter of a James, a wonderful cook, and Eudora, a seamstress. Tiana works two jobs herself, so she can save enough to open her own restaurant. Meanwhile, while serving at a party, Tiana sees a frog who tells her that he is really a prince, Naveen, who is under a spell from Dr. Facilier, a voodoo doctor. Remembering the children's story, Tiana kisses the frog, hoping he will turn into a handsome prince. On the contrary, to her horror, Tiana instead turns into a frog as well. Much of the rest of the movie involves the journey of Tiana and Naveen to become human again. They journey into the swamps to ask Mama Odie, a wise 197 year old blind woman for help. Tiana and Naveen are accompanied on their journey by Louis, an Alligator, and Ray, a Cajun Firefly.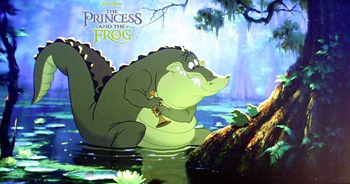 As you would expect, there are many songs along the way by Randy Newman, the most lively of which is "Dig a Little Deeper," sung by Mama Odie and friends. There's also Tasari's obligatory song about dreaming, and a love song over the final credits. We also hear a 105 year old swamp woman talk about distinguishing from wants and needs, which brought back memories of initial formation.
As you can imagine, things eventually work out for Gaston and Tasari, who overcome the odds and villains to fall in love and marry, and, presumably live happily ever after. Along the way, we hear familiar Disney themes of distinguishing between wants and needs, and following a star.
Despite the formulaic story, Princess is full of many wonderful new characters. Ray the Firefly is certainly a descendant of Jimminy Cricket, dispensing wisdom and wishing upon a star. Directors Ron Clements and John Musker bring the same energy, wit, and charm to the film that they brought to such classics as The Little Mermaid and Aladdin.
The Princess and the Frog is further indication that animated films are no longer just for children (as if they ever were!) Some of the most creative work in contemporary films can be found in animated movies. I will remember The Princess and the Frog most fondly for its beautiful depiction of a great city on its way back once again. I'm sure that Princess will soon take its deserved place in the rich tradition of Disney animated films, and will be enjoyed by children and their parents for many years to come.
Tom Condon, OP