Avatar

Avatar is the highly anticipated new film by James Cameron, his first since the enormously successful Titanic was released twelve years ago. Like Titanic, Avatar is reported to be enormously expensive. As Titanic defied its critics and became a huge success, Cameron has once again proved his critics wrong. In two weeks, it's been a big hit with both critics and audiences; it's the movie everyone is talking about.
As a true "Doubting Thomas," I was skeptical going into the theater with my 3-D glasses. I expected that I would be amazed by the technical aspects of the film, but did not expect much from the story of nine foot tall green creatures (Avatars) on the planet Pandora in the year 2150. I found the movie slow at the beginning. But somewhere along the way, I was totally won over. I think Avatar is destined to enter our collective imagination in the way only a handful of movies (e.g. Star Wars) have ever done.
Yes, Avatar is technically amazing. The climactic battle scenes are astonishing, reminding me of the epic scenes in the Lord of the Rings trilogy. There are visual references to Cameron's Terminator movies and Aliens (including Sigourney Weaver in a spaceship), and musical references by Titanic composer James Horner. What separates Avatar from most big-budget summer action films is that I cared about the fate of the characters, even the Avatars. Avatar is a spiritual film, and even an adept social commentary on early 21st Century life. Greed, exploitation of the earth, dehumanization of enemies, and rampant militarism are all vices to be found among the earthlings who travel to Pandora after destroying earth. Will we never learn?
Jake Sully (Sam Worthington), the main character, is a paraplegic former marine who comes to Pandora in order to seek a new life. Miles Quaritch, the commanding military officer, makes a deal with Jake: If he can infiltrate the Na'vi people and gain their trust and learn their secrets, he will guarantee Jake new legs so that he can walk again. Jake agrees. Scientists have determined a way, using Jake's own DNA, for him to morph into an Avatar body while he is in deep sleep. (Don't ask me to explain this; it's science fiction!) Jake is successful in his task. Of course, he falls in love with the people and in particular his mentor Neytiri, in the process. Jake wants out of the deal when he realizes that they are destined to be destroyed. "You're a traitor to your race!" Miles screams at him.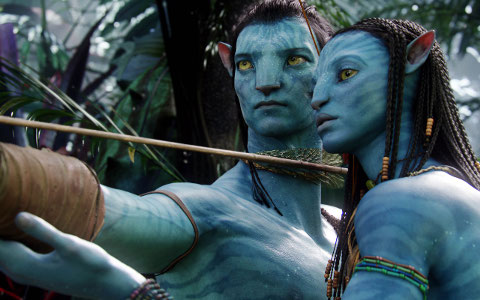 Spiritually, the Na'vi are connected to one another and to the energy of their planet in a deep way that leads to healing in them. "Seeing" becomes a metaphor, in which the Avatars connect with one another and the other creatures. "Seeing" is not only seeing one's outward appearance, but the inner qualities. Jake is initiated into their world, not unlike Kevin Costner to the Native Americans in Dances with Wolves. And, as with Dances with Wolves and even Apocalypse Now (with its many helicopter scenes), the hero is horrified when he finds that a beautiful race of people and way of life is destined for eradication. There is even the dying/rising theme, from the heart of Christianity, present in Avatar.

In the wrong hands, these themes could become overly sentimental, even offensively patronizing. But, believe it or not, Cameron pulls it off in a way that is deeply moving, and visually stunning. I imagine some will criticize Avatar for being non-Christian as they did the Harry Potter series. I would argue that it taps into a deep spiritual sense of one-ness, connection with all being, and death and resurrection at the heart of our faith. Like good science fiction, Avatar becomes a kind of parable, and certainly a warning against greed, selfishness, and the de-humanization of the other. Despite its length, it is also highly entertaining.
I imagine we will be talking about Avatar for a long time. This is one of those movies that deserves to be seen on a big screen with your 3-D glasses, so don't wait for the DVD to come out. Join the crowds and see it now.
Tom Condon, OP