Toy Story 3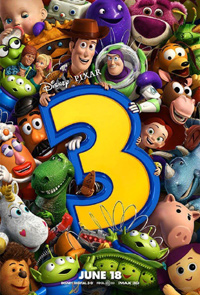 In 1995, John Lasseter and Pixar, his innovative animated film studio, released Toy Story. The huge popular and critical success of that film changed animated films, and, to a large extent, movies in general. Their computer generated animation, combined with excellent scripts, fine casting, and high production values, revolutionized the industry. Four years later, Toy Story 2 was released. It was also a huge popular and critical success. Pixar followed with a string of successes, including Finding Nemo, (the first animated film to win an Oscar) Monsters, Inc., The Incredibles, Cars, Ratatouille, WALL-E, and, in 3-D, Up. Pixar, now owned by Disney, is the gold standard in the lucrative industry of film animation. It's hard to believe that less than two decades ago, this was considered a dying art.
Pixar is back with Woody, Buzz, and the gang in Toy Story 3. The Pixar team of Lasseter, Andrew Stanton (Nemo, WALL-E), and Lee Unkrich (co-director of TS 2) developed the story, with screenplay by Michael Arndt (Little Miss Sunshine.) In this funny, touching, and poignant film, Andy, owner of the toys, is preparing to leave home to go to college. Unused and boxed away, the toys are bored, ignored, and lonely for Andy. They poignantly cry that they just want to be played with! The toys are donated to Sunnyside Day Care Center, where young children play roughly with them: throwing them, banging them on the floor, and taking them apart. (Note a minor reservation: Why are the kids at Day Care so mean?) At Sunnyside, the toys are overseen by a stuffed bear, who at first seems sweet, but turns out to be a tyrant. Longing to return to the familiarity of Andy's house, even if it meant the attic, Woody and the toys plan an exciting and hilarious escape from Sunnyside. After a harrowing adventure, they make it back to Andy's house just as he is preparing to leave.
It's a tribute to the writers and the actors (especially Tom Hanks who is excellent as the sincere, practical Woody) that they make us care so much for the fate of a box of old toys. The toys have more personality than actors in most contemporary live-action films! When Andy introduces his toys one at a time to a delighted girl who is eager to play with them, there's not a dry eye in the house. It's a very poignant moment. Ironically, in the computer generated film, there's nostalgia for a time when children had simple toys with names that they kept for years. Today's playthings are computerized, without personality, made to be obsolete in a few years. Can you imagine having an emotional attachment to a Wii? Yet, when Andy gives away Woody, his favorite, and sees those wide eyes looking back at him, he's saying goodbye to a friend. It's the end of an era. Childhood is over. There's no turning back now.
Toy Story 3 is, of course, appropriate for all ages (even though certain scenes might be frightening for the youngest children.) But I think it speaks more to adults than kids. If you still remember a special toy you named and took to bed with you (and who didn't), Toy Story is not to be missed. Don't be embarrassed if you tear up at the end. Believe me, you won't be the only one.
Tom Condon, OP