Up in the Air

Ryan Bingham (George Clooney) is proud of the fact that he flies around the country over 300 days a year. He is more at home in the air and in hotel rooms than he is in his small, non-descript Omaha apartment. Ryan knows all the secrets of efficient packing and zipping through airport security. He aspires to the 10 million mile club on American Airlines (at times the movie seems like a two hour commercial for American); he would be only the seventh person to receive such recognition. This isn't a bad goal. The problem is that it seems to be Ryan's only aspiration in life.
Ryan's job is firing people. Companies hire Ryan's firm to fire their employees, when, apparently, they don't have the courage to do this difficult task themselves. Ryan does this as he does everything: efficiently, devoid of emotional attachment. He refers to emotional attachments as "baggage" in the talks he gives to other professionals.
One day, Ryan's boss informs him that they are going to take a new approach, suggested by Natalie, a bright new staff member: long distance firing. This could be accomplished by computer. It would save all the travel expenses. Ryan panics at this idea, since it could make his job, and lifestyle, obsolete. So Ryan takes the new staff member on the road with him to show her how he does his job.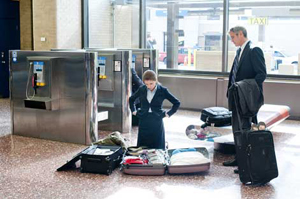 All of this works nicely enough until Ryan himself falls for Alex, another "road warrior" he meets in a hotel. His life is further called into question when Ryan attends the wedding of his niece. He realizes that he barely knows his family, and has failed to connect with them, or anyone else, for many years.
Up in the Air has much going for it. Its main asset is Clooney. He is excellent as the charming, smiling hatchet man. Vera Farmiga as Alex and Anna Kendrick as Natalie are also excellent as the two women in Ryan's life. The movie is slickly directed and co-written by Jason Reitman, with Sheldon Turner, based on a novel by Walter Kirn.
Reitman also directed the acclaimed film Juno two years ago. There are similarities: both are clever and witty, dealing with contemporary issues. However, while Juno was surprisingly warm, without being sentimental, Up in the Air is very cool. Ryan finally realizes his emotional isolation, but I found it hard to empathize with him. I suspect there are many Ryans out there, living an expensive lifestyle, caring about nothing more than frequent flyer miles, who will wake up one day and realize the utter meaninglessness in their lives. Are they beyond hope? Like Ryan, they will need to discover that relationships are more than baggage that is better off left behind. Being grounded in faith, family, or community are, in the long run, a lot more satisfying than a million frequent flyer miles.
Overall, I found Up in the Air to be a disappointment. Despite its cleverness and good acting, it just didn't connect with me at an emotional level.
Tom Condon, OP