True Grit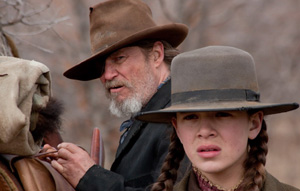 I vaguely remember seeing the 1969 version of "True Grit," in which John Wayne won an Oscar as one-eyed lawman Rooster Cogburn. I was skeptical of the current remake by Oscar-winning directors Joel and Ethan Cohen. Why remake a largely forgotten Western? To my surprise, the eccentric Cohens (No Country for Old Men) have made a rather traditional, highly entertaining movie.
Based more on the novel by Charles Portis than the 1969 film, "True Grit" tells the story of 14-year-old Mattie Ross (well-played by newcomer Hailee Steinfeld), who travels to Fort Smith, Arkansas, to avenge her father's murder. Mattie hires U.S. Marshall Rooster Cogburn (in this version played by Jeff Bridges), to find Tom Chaney, her father's killer, and bring him to justice. Mattie also encounters La Boeuf (Matt Damon), a Texas Ranger who has long been on Chaney's trail. La Boeuf and Cogburn sneak across the river into Oklahoma, planning to leave Mattie behind. Highly determined to find Chaney, Mattie will not be denied. She crosses the river on horseback, and joins the unlikely trio on the killer's trail.
After some time of searching, arguing, and pursuing dead ends, Mattie spots Chaney on a river. Chaney and his gang capture Mattie and take her hostage. Cogburn and La Boeuf must overcome numbers, and even their dislike for each other, to rescue Mattie and bring the outlaws to justice.
In lesser hands, the remake of this Western would have been mediocre at best. My fear was that the talented but eccentric Cohens would have changed the nature of "True Grit" from a traditional tale to an excessively quirky one. On the contrary, what they have done is to take good, solid, material, and, with the help of first-rate production values and a fine cast, turn it into something memorable. It's the reason audiences of another generation became regular moviegoers: to see well-made, satisfying, mainstream movies, without comic book heroes and tons of special effects. The fact that "True Grit" stood out in the holiday season, and became a hit, is a testament to the forgotten values of story and craftsmanship. Such values today have largely been left to animated Pixar films.
One of the best things about the movie is that it's so visually striking. Veteran cinematographer Roger Deakins has worked with the Cohens on many of their movies. His work on "True Grit" is excellent. Every frame looks great, from snowflakes in the night sky to the dusty streets of Fort Smith.
The screenplay by the Cohens is also very effective. It takes its time telling the tale with sparse, stilted language that seems almost like a foreign language. Even though the story is rather conventional by Cohen standards, eccentricities are still present. Cogburn had "true grit," but also a penchant for the bottle. La Boeuf takes pride in his pretty clothes, yet shows courage. Mattie is strong-willed and mature beyond her years. These are not stock characters, but individuals. Last year's Oscar winner Bridges may well find himself among the nominees again as Cogburn. Damon, one of our most reliable actors, gives another solid performance La Boeuf.
In her first film, Hailee Steinfeld as Mattie is the heart of the movie. She holds her own with veterans Bridges and Damon. I was set to complain that the actress must be much older than 14-year-old character she portrays until I discovered that Steinfeld is indeed only 14! It's a credit to her confident strength that she seems older than her age. A character like Mattie had to grow up fast to survive the frontier. Steinfeld deserves a best actress nomination. However, because of her age, she will probably be nominated in the supporting actress category.
Be forewarned that there are a couple of scenes of sudden violence, rather strong for a PG-13 movie. They don't seem out of place in this stark, hostile environment with public hangings, gunshots, meat cleavers, and poisonous snakes. Despite the reserved emotions of Mattie who narrates the story, the end in which Cogburn carries Mattie for medical treatment is surprisingly moving, as is an epilogue featuring the adult Mattie. It all adds up to a satisfying, well-told tale, which will stay with me for a long time.
Tom Condon, OP