The Kids Are Alright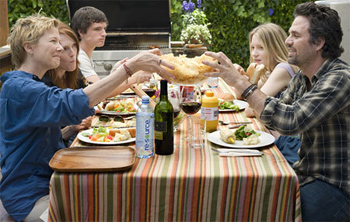 The Kids Are Alright is a film about an unconventional family. Nic (Annette Bening) and Jules (Julianne Moore) are a lesbian couple in a long term committed relationship. They have had two children by artificial insemination: Joni, who just turned 18, and Laser, a 16-year-old boy. Nic, a physician, tends to be uptight and controlling. Jules is more laid back. She has had a variety of jobs, and is currently attempting to launch a career as a landscape architect.
As the movie opens, Joni and Laser decide to discover the identity of their biological father. They locate the sperm bank, which leads them to Paul (Mark Ruffalo), their father. Paul owns a restaurant, and is involved in a cooperative garden. He knows nothing of Joni and Laser until they come to his restaurant and meet him. Paul is a likeable man who shows interest in the kids. Joni and Laser eventually tell Nic and Jules about Paul, and they reluctantly agree to meet him.
Joni, Laser, and Jules grow to like the charming, free-spirited Paul. Nic is more cautious, and does not like the fact that he is spending more time with the family. Paul asks Jules to do landscaping in his back yard. Unexpectedly, Paul and Jules find themselves attracted to each other.
The Kids finds humor in the unconventional family, but also explores the tensions that arise from the characters and situations. Director and writer (with Stuart Blumberg) Lisa Cholodensko strikes a good chord between the comedic and dramatic moments. As the title implies, the college-bound Joni and her brother Laser seem better adjusted than Nic, Jules, and Paul. The kids have love Nic and Jules. Yet they crave the attention Paul gives them.
The point of the film is that, no matter how conventional or unconventional the family, it is hard being a family. There are stresses and temptations. Trust and forgiveness are essential in every family. These values are well expressed by Jules in a moving speech she gives to the family late in the film.
A strength of The Kids is an excellent cast giving very fine performances, beginning with veteran actresses Bening and Moore as Nic and Jules. Ruffalo is also very good as the charming, but irresponsible Paul. Credit should also go to gifted young actors Mia Wasikowsks as Joni and Josh Hutcherson as Laser.
I need to mention a strong caution for potential viewers. The sexual content, both heterosexual and homosexual, including partial nudity and dialogue, is rather explicit. I think it could have been toned down without damaging the film at all. So use your own discretion.
The Kids Are Alright has received a good deal of critical acclaim in a summer with few options for the discriminating viewer. I don't think it's a great film, but it is a good reflection on a particular unconventional family with universal themes. No matter what kind of family you belong to, it takes love, trust, and honesty for families to survive and thrive.
Tom Condon, OP