The King's Speech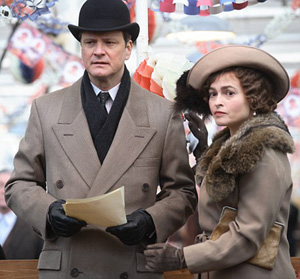 "The King's Speech" is an excellent movie. I suspect it will be a contender for many Oscars next month, including best picture and Colin Firth as best actor.
"The King's Speech" successfully combines history with a story of personal struggle. Set in England in the 1930s, it tells the story of the young prince (nicknamed "Bertie"), son of George V and brother to Edward. Bertie is afflicted with a stammer, making it very difficult for him to speak in public. He was also considered by many to be a weak man, unfit for public office. The Royal Family had sought out many teachers and therapists to assist Bertie with his speech. None proved successful. Bertie's wife Elizabeth (Helena Bonham Carter) finds an unorthodox Australian speech therapist, Lionel Logue (Geoffrey Rush), who agrees to meet with the prince, but only on his terms. The terms include that Bertie must come to Logue's office, and be treated as an equal. Despite their strong objections to his terms, Bertie agrees to see Logue at his office, and continues to do so on a regular basis.
"The King's Speech" reverts to an era in which royalty and commoners did not mix. Much less did royalty allow commoners to address them by first name and discuss their personal lives with them. Bertie must overcome his reluctance to reveal himself to Logue in order for his treatment to be successful. Indeed there are setbacks, but Bertie finally learns to trust Logue and learn from him.
When Bertie's father dies, Edward ascends the throne, only to abdicate it in order to marry a divorced American, Wallis Warfield Simpson, in 1936. Bertie ascends to the throne as King George VI. The film ends with the King addressing his country on radio in 1939, at the outbreak of World War II, with Logue at his side coaching him. We learn that Logue and the King develop a life-long friendship. Logue helps George to prepare for every speech for the rest of his life.
At the heart of the film is the relationship between Bertie and Logue. The audience learns that Bertie has not had an easy time growing up in the royal household, living a sheltered life without friends and teased by his brother because of his stammer. Logue is a frustrated actor who helped wounded Australians returning from World War I to find their voice. He develops his own technique when there was no formal training for speech therapists, and moves to London. Logue challenges young Bertie, who resists mightily. It is through the strength of their personal relationship and mutual trust that Bertie gains self confidence and is able to lead his country.
Firth is excellent as Bertie, the man who would be king, dealing with his stutter, frustration and anger with his situation. Rush is equally good as the unorthodox Logue, challenging Bertie to find his own voice. Rush also conveys his hurt when, after challenges, Bertie pushes him away, allowing the difference in their status to influence his actions. Bonham Carter is also very good as Bertie's supportive and understanding wife. All three deserve Oscar nominations. They are supported by an outstanding cast.
Logue doesn't only help Bertie to control his stammer. He also helps him to find his voice. That involves coming to terms with personal issues and gaining trust and confidence, so that he may assume the task he was given by his royal station in life. It's the same for each of us, particularly those of us who are preachers. We must find our own voices as well. Like Bertie, in order to find our voices, we must deal with our own personal histories and wounds. We can learn the mechanics of preaching, but we need to do so much more and delve so much deeper if we are to find the voice that will make us effective preachers to the people to whom we are sent.
I salute the many men and women in my life who, like Lionel Logue, have taught me, coached me, supported me, and challenged me so that I might find my own voice. I thought of them all as I watched and reflected on "The King's Speech." Several friends have told me that spontaneous applause erupted in theaters at the end of the movie. I applaud the makers of this fine film, including director Tom Hooper and screenwriter David Seidler. I hope you will see it, applaud the film, and remember those who helped you uncover your own voices.
Tom Condon, OP