Photos of the Week
DVUSA
Dominican volunteers gather for midyear retreat

Dominican volunteers from across the country joined Dominican Sisters of Peace for a midyear retreat in early February at the Heartland Center for Spirituality in Great Bend, Kansas. During the retreat, the volunteers also enjoyed a visit to Heartland Farm. Read article by Sister Amy McFrederick, OP

Happy Valentine's Day
Students <3 Sister Marialein

Dominican Sister of Peace Sister Marialein Anzenberger holds a vase of "valentine flowers" created by fourth-grade students at St. Paul's School (Westerville, Ohio), each with a message of Christ's love for St. Valentine's Day. The gift was given to her as part of the school's Discipleship program, which connects religious sisters with students who might not otherwise encounter sisters in their daily lives. Sister Marialein has received several such personal and creative holiday gifts from St. Paul's Room 14 over the past three years, and every June she comes to the class to meet the students, thank them, and offer a small gift in return.


Vocations
Sisters collaborate on Albuquerque event

Earlier this month, five Dominican congregations of sisters joined together to host an "Albuquerque's Got Sisters!" retreat in Albuquerque, New Mexico. Sister participants included Sisters Durstyne Farnan, OP (Adrian), Jeri Cashman (Sinsinawa), Dolorita Martinez (Grand Rapids), Geneal Kramer (Adrian), Therese Rodriguez (Grand Rapids), Annette Lucero (Peace), Ann Thielen (Grand Rapids), Maggie Bohn (Racine), and Eva Silva (Grand Rapids).

Dominican Sisters in Committed Collaboration
Souper Bowl funds to help build orphanage in Haiti

The "Charitable KIDZ" community service group at St. Bernard Parish, Levittown, New York, participated in the Souper Bowl of Caring program, and donated the proceeds to a Dominican-led effort to build an orphanage for children impacted by the earthquake in Haiti. Sisters Didi Madden, OP (Blauvelt) and Valerie Lordi, OP (Sparkill) were invited to speak to the Charitable KIDZ about the orphanage building project. They were joined by Amityville Sisters Christine Sammons, OP of St. Bernard Parish and Margaret Mayce, OP, DLC-NGO Representative to the United Nations. On Super Bowl Sunday, the KIDZ stood outside church after each Mass and collected donations in soup pots. Thanks to the outstanding work of the Charitable Kidz and the generosity of St. Bernard's parishioners, a check for $5,000 was sent to Valerie and Didi to help with the building project.

Above from left: Sisters Didi Madden (Blauvelt), Margaret Mayce (Amityville), Valerie Lordi (Sparkill) and Christine Sammons (Amityville).
National Catholic Sisters Week
Catholic sisters to be recognized March 8–14
The first National Catholic Sisters Week will take place March 8–14, 2014 as part of Women's History Month. The purpose is to raise awareness of the mission and ministries of Catholic sisters. Women religious have made, and continue to make, vital contributions in education, health care, criminal justice, social justice, theology, the arts, and politics. The Sinsinawa Dominican Sisters and Dominican Sisters of Peace are among many congregations of Catholic sisters in the United States whose stories are just waiting to be told. Read news release from the Sinsinawa Dominicans | Visit NCSW page on the Dominican Sisters of Peace web site
UN Briefing
'Humanity divided': Inequality a barrier to development
Feb. 20 has been designated as the World Day of Social Justice. This coincides with the UN Commission for Social Development, in session from Feb. 11–21. The theme of the commission is "promoting empowerment of people in eradicating poverty, social integration and full and decent employment for all." However, it is ironic that we address this theme of empowerment of people in a world in which inequality is escalating and social justice seems a far distant dream, at best. Read article by Sister Margaret Mayce, OP
Springfield Dominicans
Congregation adopts collaborative statement
During their recent General Chapter, the Dominican Sisters of Springfield, Illinois, wrote and unanimously adopted a collaborative statement: "Together–Birthing Anew." The sisters' goal for the 18th General Chapter was to move deeper into themes of the previous chapter: reverence for all creation, right relationship and collaboration. View statement on YouTube
Peace Dominicans
Kentucky rally focuses on environmental concerns

On Feb. 12, Dominican Sisters of Peace and students and faculty from St. Catharine College (a founded ministry of the Dominican Sisters of Peace) participated in the ninth annual "I Love Mountains Day" rally at Kentucky's state capitol building. Dominican Sister of Peace Sister Claire McGowan, who is becoming well known in Kentucky and in the national media for her leadership in efforts countering the Bluegrass Pipeline, gave a stirring address at the event. Read more
Regina Dominican
Advocate for homeless speaks to Leadership Institute
Sister Mary Scullion, RSM, an advocate for the homeless and the first speaker for the year in Regina Dominican High School's Leadership Institute Speakers Series, challenged the students to join her in her work to end homelessness. Regina Dominican High School, Wilmette, Illinois, is a sponsored ministry of the Adrian Dominican Sisters. Read more
San Domenico
California school nominated for sustainability award
San Domenico School, a sponsored ministry of the Dominican Sisters of San Rafael, California, was one of four schools nominated by the California Department of Education to receive a Green Ribbon Award for excellence in sustainability practices. The school hired a director of sustainability 12 years ago. Efforts have included the installation of solar panels, the use of recycling and compost bins, the collection of rainwater, and an organic garden. Read article in the Marin Independent Journal
Adrian Dominicans
Sister Carmen honored by Catholic Charities
Sister Carmen Álvarez, OP, received the Caritas Christi Award from Catholic Charities of the Diocese of Palm Beach, Florida, in recognition of her long-time involvement in the agency's outreach ministries. Read more
Previous updates:
| | | |
| --- | --- | --- |
| | | February 5, 2014 |
| January 22, 2014 | January 8, 2014 | Nov 22, 2013 |
| November 6, 2013 | October 23, 2013 | October 9, 2013 |
| Sept 25, 2013 | Sept 11, 2013 | August 14, 2013 |
| July 24, 2013 | July 10, 2013 | June 26, 2013 |
| June 12, 2013 | May 29, 2013 | May 8, 2013 |
| April 24, 2013 | April 10, 2013 | March 27, 2013 |
| March 13, 2013 | February 27, 2013 | February 13, 2013 |
| January 30, 2013 | January 16, 2013 | Dec 19, 2012 |
| December 5, 2012 | November 16, 2012 | October 31, 2012 |
| October 17, 2012 | Sept 26, 2012 | Sept 12, 2012 |
| August 29, 2012 | August 15, 2012 | July 25, 2012 |
| July 11, 2012 | June 27, 2012 | June 13, 2012 |
| May 31, 2012 | May 16, 2012 | May 2, 2012 |
| April 4, 2012 | March 21, 2012 | March 7, 2012 |
| February 22, 2012 | February 8, 2012 | January 25, 2012 |
| January 11, 2012 | December 21, 2011 | December 7, 2011 |
| November 23, 2011 | November 9, 2011 | October 19, 2011 |
| October 5, 2011 | Sept 21, 2011 | Sept 7, 2011 |
| August 24, 2011 | August 10, 2011 | July 20, 2011 |
| | | |
| | | |
| | | |
| | | |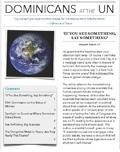 Dominicans at the UN
Read the latest edition of the Dominicans at the UN newsletter.
Register kids now for Camp Kateri
Camp Kateri is a week-long day and overnight summer camp at Rosaryville Spirit Life Center in Ponchatoula, Louisiana. Established in the 1960s, the program offers an exciting and enriching summer camp experience for boys and girls ages 7–13.
Nuns host vocation retreat in June
The cloistered Dominican nuns at St. Jude Monastery in Marbury, Alabama, are hosting a vocation retreat June 13–15. The nuns live a traditional monastic life of community, liturgical and private prayer, study and work. The retreat is open to single Catholic women ages 16 to 27.
San Domenico to admit boys
San Domenico School, San Anselmo, California, will admit freshmen and sophomore boys to the school starting in the fall of 2015. San Domenico, founded by the Dominican Sisters of San Rafael in 1850, is the oldest Catholic school in California.
Read article in Ross Valley Reporter
Associate in the news
Adrian Dominican Associate Carol Fowler was quoted in a recent article in the New York Times ("Helping Catholics by Teaching Priests How to Be the Boss"). Fowler, former personnel director for the Archdiocese of Chicago, was a presenter in a program developed to provide management expertise to Catholic priests.
Shop Amazon.com and support DSC
Purchase books, gifts and other items through Amazon.com, and a percentage of the cost will be donated to the Dominican Sisters Conference. Click on the icon (above) to get started.