Photos of the Week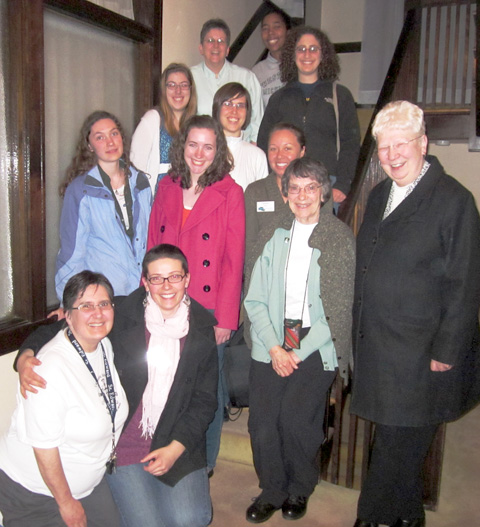 Springfield Dominicans
Chicago Nun Run
Dominican Sisters at St. Edward's Convent in Chicago hosted young women on April 6 as part of the Chicago Nun Run. The Nun Run event is a 24-hour + experience sponsored by the Chicago Archdiocesan Vocation Association (CAVA) which includes transportation, overnight hospitality and meals. Young women are invited to visit religious sisters where they live to pray together, eat together, laugh and share stories. Pictured here with young women participants are Sisters Adele Human, OP (first row, left); Marie Michelle Hackett (first row, right); Joan Monica McGuire (Peace) (first row, second from right); and Elizabeth Ann Murphy (second row from the top, left). Sister Kathi Sleziak (Grand Rapids) brought some of the young women from Aquinas College.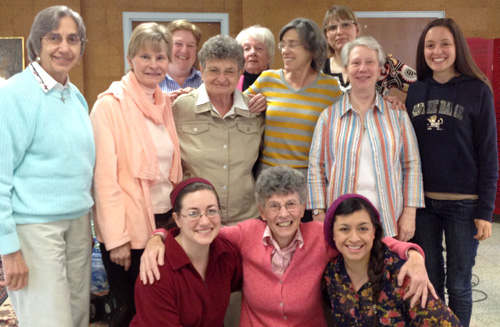 OPSCC
Sisters, associates participate in Justice Summit
On April 13, the Dominican sisters and associates from Amityville, Blauvelt, Caldwell, Hope, Sparkill, Maryknoll, Adrian, and Sinsinawa plus Dominican Volunteers gathered in Ossining, New York for a Justice Summit. The Justice Promoters sponsored this event, asking "What can we do together?" A panel representing ROAR, ROW, Dominican NGO, and Tri-Cri shared information on their organizations and what they are doing in relation to Climate Change. There were breakout sessions on Economic Justice, Human Trafficking, Immigration, GMOs, Climate Change, and Palestine/Israel, plus an engaging workshop on using social media in the service of justice. For more information about Dominican Sisters in Committed Collaboration, visit www.opscc.org.
Dominican Volunteers USA
Silent auction raises funds, honors relationships

Dominican Volunteers USA held its second annual Silent Auction at Dominican University in River Forest, Illinois, on April 20. The event raised more than $13,000 (and counting) for the post-graduate service program sponsored by 18 congregations and provinces in the U.S. Dominican Family. The event was attended by the joint boards of DVUSA, friends, family, sisters, friars, plus more than 30 alumni and current volunteers. Read article by Michael Chapuran
Dominican Sisters of Hope
State senate honors sister as 'woman of distinction'

Sister Debbie Blow, OP, a co-founder of the North Country Mission of Hope, will be recognized in Albany, New York, early next month as a New York State Senate Woman of Distinction.
Senator Betty Little nominated Sister Debbie for the recognition, citing her leadership in organizing a sustained humanitarian mission to Nicaragua that, since 1998, has provided healthcare to more than 60,000 people, educated hundreds of students, constructed more than 500 homes, as well as classrooms, a library and community development center, and fed thousands of malnourished children through the Children Feeding Children Program. Read more
UN Briefing
Social Protection Floor: A feasible way to alleviate poverty
I recently had the opportunity to travel to Geneva, Switzerland, for a meeting of the NGO Coalition for Social Protection Floors… The concept of a Social Protection Floor is rooted in the fundamental principle of social justice, and in the specific universal right of everyone to social security and to a standard of living adequate for the health and well-being of themselves and their families. The basic idea is that no one should live below a certain income level, and everyone should have access to basic social services. Read article by Sister Margaret Mayce, OP
Dominican Sisters of Mission San Jose
Congregation receives community development block grant
On April 9, the Fremont (California) City Council voted to appropriate $250,000 in Community Development Block Grant funds to the Dominican Sisters of Mission San Jose. The CDBG funds will be used to support renovation of the first floor of the congregation's motherhouse to host an adult memory care program, which will be operated by Alzheimer's Services of the East Bay (ASEB). The program will offer the first dementia-specific adult-day care program in Fremont. Read more
Faith and Film
42
"42" is the number of the jersey worn by the great Jackie Robinson, who broke the color barrier in Major League Baseball in 1947 when he played for the Brooklyn Dodgers. It is still worn by MLB players on the opening day of the season every year. "42" is also the name of the new movie which chronicles this significant moment. Whether you're a baseball fan or not, there are many good reasons to see "42." Read review by Tom Condon, OP
Previous updates:
| | | |
| --- | --- | --- |
| | April 10, 2013 | March 27, 2013 |
| March 13, 2013 | February 27, 2013 | February 13, 2013 |
| January 30, 2013 | January 16, 2013 | Dec 19, 2012 |
| December 5, 2012 | November 16, 2012 | October 31, 2012 |
| October 17, 2012 | Sept 26, 2012 | Sept 12, 2012 |
| August 29, 2012 | August 15, 2012 | July 25, 2012 |
| July 11, 2012 | June 27, 2012 | June 13, 2012 |
| May 31, 2012 | May 16, 2012 | May 2, 2012 |
| April 4, 2012 | March 21, 2012 | March 7, 2012 |
| February 22, 2012 | February 8, 2012 | January 25, 2012 |
| January 11, 2012 | December 21, 2011 | December 7, 2011 |
| November 23, 2011 | November 9, 2011 | October 19, 2011 |
| October 5, 2011 | Sept 21, 2011 | Sept 7, 2011 |
| August 24, 2011 | August 10, 2011 | July 20, 2011 |
| | | |
| | | |
| | | |
| | | |


The DSC needs your support!
The DSC needs your support! While dues from member congregations covers a large portion of the expenses for Dominican Sisters Conference, it does not cover it all. This year, we are offering a "win-win OPportunity" by asking you to donate in return for a chance to be a lucky recipient of some of the money raised!
Raising awareness of domestic violence
Fr. Chuck Dahm, OP, of Pius V Parish in Chicago was recently interviewed by PBS Religion and Ethics NewsWeekly on the topic of domestic violence. Fr. Chuck and volunteers at Pius V Parish are working to bring the issue to light in parishes, where help can be offered and healing can begin.
Peace sisters put land to good use
A recent video interview by the Louisville (Kentucky) Courier-Journal featured the Dominican Sisters of Peace and their efforts to promote natural sustainability at St. Catharine Farm and St. Catharine College in St. Catharine, Kentucky.
Universe Story retreat offered in July
The Dominican Sisters of Springfield, Illinois, will host a six-day retreat, "Deep Transitions: Moving into the Story" July 14–20 at Sacred Heart Convent. The retreat is geared toward Dominican sisters and associates who have some basic knowledge of the Universe Story through previous retreats, programs, or personal study.
Making text larger
To enlarge text on a PC, use the keyboard shortcut: Control + (push and hold the Control key and then push the + key). To reduce the size of text, do the same thing using the Control - (minus) keys.

Dominican crosses available
Cost is $23 plus shipping. Contact sisters@domlife.org