The Visitor
a review by Tom Condon, OP (St. Martin)
The new independent film, The Visitor is certainly a breath of fresh air after a dismal spring movie season. This small, enormously moving film that deals with relationships and personal and political transformation may soon be overshadowed by summer blockbusters. So I urge you search it out now, or later on DVD. I guarantee you will not be disappointed.
The Visitor tells the story of Walter Vale, a middle aged, widowed Connecticut college professor. Walter has lost all interest in life. He keeps everyone at arm's length. He halfheartedly teaches only one course. The only interest Walter claims to have is learning to play piano. (In the course of the film we find that his wife was a pianist.) Yet, we find that Walter has hired and dismissed four piano teachers, finding fault with them all.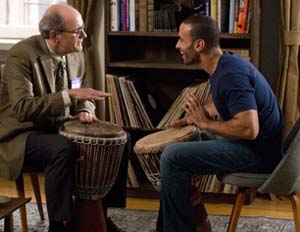 Walter's department head asks him to go to New York to present a paper he co-authored at a professional conference. Reluctantly, Walter drives down to an apartment in Greenwich Village that he owns, but seldom visits. To his shock, Walter finds a young couple living in his apartment: Tarek, a Syrian, and his girlfriend Zainab, from Senegal. The two are in the country illegally, and have nowhere to go, so Walter agrees to let them stay one night in his apartment. Surprisingly, a friendship develops between Walter and the likeable young Tarek. Walter is especially fascinated by Tarek's drumming. He asks Tarek to teach him drumming, and before long, Walter is drumming with him in a park.
Through his friendship with Tarek and newfound passion for drumming, Walter begins to rejoin the living. Character actor Richard Jenkins (I confess I'd never heard of him before) gives a great performance as Walter. The vacant stare in his eye is replaced by a look of eagerness. Walter begins to drum with his fingers on his desk. Walter can't wait to finish his conference, so he can drum with Tarek and his friends. When the conference ends, Walter delays his return to Connecticut, and eventually takes a leave of absence from teaching to pursue his friendship and drumming. Walter has experienced resurrection.
As the story progresses, Tarek is arrested on a misdemeanor and jailed with other illegal immigrants. Walter is horrified that his friend, who is a threat to no one, could be treated this way by the authorities. Tarek is taken to a holding cell in Queens, and held without bond. Walter gets the runaround from the authorities, who will tell him nothing about what might happen to Tarek. Walter hires an immigration attorney, who gives him little hope. One evening, Tarek's mother Mouna arrives from Michigan to look for her son. Walter is surprised to find himself romantically drawn to the lovely Mouna, and together they continue to work for Tarek's release.
The Visitor is remarkable on many levels. Through human relationship and music, Walter awakes from a deep sleep and begins to live again. Simultaneously, Walter awakens to the reality of illegals in his own country. Before he came to know Tarek, Walter had no interest in his country's immigration policies. Why should he? They didn't affect him. But, through his relationship with Tarek, he becomes an advocate. In one of the most moving moments in the film, an outraged, frustrated Walter screams at Tarek's jailers "It isn't fair! It isn't fair!" It's hard to imagine Walter screaming about anything earlier in the film.
Writer-director Thomas McCarthy deserves great credit for bringing this small, beautiful, haunting film to the screen. I do have to mention one lapse in the screenplay which bugged me throughout the film. When Walter finds Tarek and Zainab living in his apartment, naturally he asks them who they are and what they are doing in there. Tarek answers that a friend told Tarek it was his apartment, and they could stay there. After the first night, nothing more is mentioned about this. I kept wondering: who is this mysterious friend and how did he get access to Walter's apartment? Yes, it's a small matter, but, the plot hinges on this moment, which begs an explanation.
This reservation does not dampen my overall enthusiasm for such a fine film that appeals to both heart and head. There's already some talk about Richard Jenkins as an Oscar nominee next year. I certainly hope that happens, for the sake of this little-known actor, and as a way of drawing attention to a very deserving gem of a movie.
Tom Condon, OP