There Will Be Blood

There Will Be Blood is a great movie. It's visually stunning, with great landscapes of rural California in the early days of the oil boom. It looks like the big epics we just don't see anymore, with a grand scale and a sense of history. It has great scenes of chugging steam locomotives and gushing oil wells. Writer-director Paul Thomas Anderson has successfully adapted Upton Sinclair's muckraking 1920's novel Oil! into a film that is both true to its time, yet remarkably contemporary, with its themes of greed, power, dysfunctional families and corrupt religious leaders.
The story follows Daniel Plainview (Daniel Day-Lewis), a self made oil man, who tries to buy up the oil rights in California in the early years of the 20th Century. The majority of the film takes place in the town of Little Boston, where Daniel, accompanied by his young son H.W., drills for oil and buys land. Daniel enters into a deal with the religiously zealous Sunday family. The son, young Eli, is a charismatic preacher of the Church of the Third Apocalypse, looking for money to build a new church for his growing congregation. Eli shrewdly keeps his eye on Daniel to join the church, and, more importantly, finance the new building. The scene in which Eli baptizes Daniel is amazing.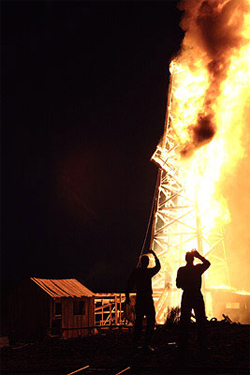 Daniel is a man of many secrets. Daniel refuses to discuss his past with anyone, until a man claiming to be his long lost brother appears. Daniel also is vague about the whereabouts of H.W.'s mother; in one scene he says she is dead, in another, he simply refuses to discuss her. Daniel's relationship to H.W. is also complex; in one scene he seems to love the child, in another, he gives him away, in another, he calls H.W. an orphan. Daniel threatens to slit a man's throat for asking about H.W. Whatever Daniel's past secrets he is a self-proclaimed misanthrope, seeing no good in others. Their only purpose is to serve Daniel and his plans for wealth and power.
Daniel Plainview is a complex, larger-than-life, character, dominating every scene of the film. He is in the end monstrous in his final encounters with H.W. and Eli. He is always a shrewd businessman, and even shows moments of tenderness toward H.W., when he loses his hearing in an accident. Daniel Day-Lewis' performance as Daniel is simply magnificent. I think this performance will not only win Day-Lewis his second Oscar, but will become legendary, and cement his reputation as one of the finest actors of his generation. Just watching the depth of intensity in his final scene with Eli in the bowling alley in the basement of Daniel's mansion is simultaneously horrifying and thrilling. You want to turn away, but can't. (It's the only disturbingly violent scene in the film,)
There's so much in There Must Be Blood that I know I didn't catch it all in the first viewing, and am eager to see it again. There is much religious imagery, including the names of the characters. As I mentioned, Daniel is a complex character, but so are Eli and the others. It's a credit to Anderson's direction and screenplay that I can't wait to talk about it with others, and discuss the scenes and characters. It's like a finishing a great novel that you want to tell all your friends about, so they can read it too.

While Day-Lewis dominates the film, credit is also due to young Paul Dano as Eli, who holds his own in his scenes with Day-Lewis. All the technical credits are excellent, especially its great cinematography and rich, moody score. I was amazed that composer Jonny Greenwood didn't get an Oscar nomination for this unique contribution to the film!
Go see this stunning, fascinating, complex film. I guarantee you'll want to talk about it, and won't soon forget it.
Tom Condon, OP