Frozen River
Ray Eddy has a hard look about her. Just by looking at her you can tell that she's had a hard life. She looks tired, and far older than her years. Ray's husband, a compulsive gambler, has left her again to take care of her two boys, 15 year old J.T. and 5 year old Ricky, with virtually nothing. Creditors are knocking at her door. Her part time job at a convenience store cannot begin to pay the bills; living in rural upstate New York, she has few options. Ray is the face of the working class poor, trying to do the best for her kids, living on the edge of desperation. Her dream is to somehow make enough money for a double-wide trailer, which would be a warmer, more comfortable home for the three of them.
While searching for her husband at a Native American bingo hall, Ray meets Lila, a young Mohawk woman whom she accuses of stealing her husband's car. Lila and Ray form an unlikely relationship, when Lila suggests that Ray help her smuggle undocumented persons across the frozen St. Lawrence River, in Mohawk territory, from Canada to the US. Ray does not like the idea, but reluctantly agrees, in order to earn some much needed money. Christmas is nearing, and there is nothing under the tree for her boys. Lila needs the money so that she may have a chance to regain custody of her infant son, being kept by her mother-in-law.
Frozen River is a film with strong characters who must make hard choices. At first horrified at the idea of breaking the law, then worried about getting caught, Ray overcomes her feeling and fear in order to do what she feels she must. At the climax of the film, Ray is faced with a decision: she can give herself up to authorities, risking imprisonment, or run and leave Lila to face the charges. If she runs, Ray knows it will mean that Lila will never get a chance to take back her infant. True to form, Ray makes a tough decision that speaks volumes about unselfish love. It's the tough love shown by Ray and Lila that gives the movie some hope and keeps it from being a downer.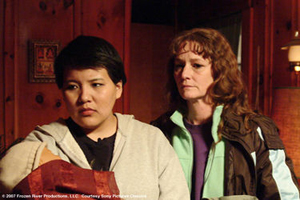 Writer-director Courtney Hart, making her first feature film, gets it right. Hart knows her territory and characters well. As Ray, Melissa Leo gives the kind of breakthrough performance that unknown actor Richard Jenkins gave earlier this year in The Visitor. I hope to see them both honored during award season in a few months. It's strong and uncompromising. Ray is a woman who is both tender and tough. She misses her husband, loves her children, and longs for human relationship. Yet Ray carries a gun with her and will use it if needed. Equally touching is Misty Upham as Lila. When she stumbles upon her son at a roadside café, she is paralyzed, unable to move. It's a heart-wrenching moment. In addition to the two main characters, Hart conveys the fear and desperation of the illegal immigrants who take enormous risks to cross the border.
Frozen River also explores the cultural prejudices among the characters. Lila tells Ray that she has need not worry about authorities, because she is white. Ray is surprised to learn that Lila is right about this. Ray also discovers what it is like to be looked upon with suspicion when she is in Mohawk territory.
Frozen River, an award winner at this year's Sundance Film Festival, is an example of independent filmmaking at its best: It tells a story of ordinary people making difficult moral choices, without a hint of condescension. Frozen River is about as far from a big budget superhero summer blockbuster as you can get. It's unimaginable with big stars and a big budget. Yet I'll bet that the strength of Frozen River's characters and story will remain with me long after I've forgotten this summer's blockbusters.
Tom Condon, OP