Brideshead Revisited
I confess that I have never read the celebrated novel by Evelyn Waugh. I remember seeing only a few episodes of the well reguarded 1980's miniseries with Jeremy Irons when it aired over 25 years ago. So, while I have a sense of the story of Charles Ryder and his relationship with the aristocratic Flyte family in the 1920's and 30's, I certainly am no expert on the topic.
Be that as it may, for the most part I enjoyed the current film adaptation by director Julian Jarrold. It's certainly a stunning film visually, with sumptuous costumes, sets (Yorkshire's Castle Howard serves as the home of Lord and Lady Marcham in both the miniseries and film), and beautiful photography. The film is less successful dealing with the complex relationships among the aristocratic Catholic family that Charles Ryder is drawn into. The Catholicism of the Flyte family is essential to the plot. (How often do we get to hear the Salve Regina in a movie?) Charles, a self-professed atheist, looks upon the Catholicism with the same mixture of fascination and repulsion that the media displayed toward the Fundamentalist Mormon compound in West Texas was earlier this year.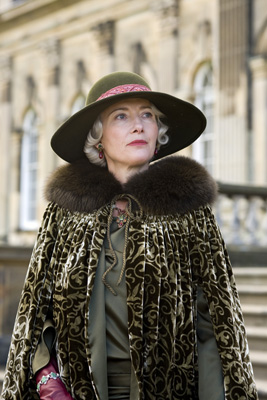 Charles, raised in a modest home by a distant, widowed father, goes to Oxford in the 1920's, where he soon meets Sebastian Flyte and his homosexual friends. Charles is taken in by the flamboyant Sebastian, and soon we find them frolicking and swimming together. On a summer holiday, Charles also makes the acquaintance of other members of Sebastian's family, including his sister Julia, his mother, the very religious Lady Marcham, and his father, Lord Marcham, who lives with a woman in Venice. Charles' relationship with Sebastian is strained by his attraction to Julia, as well as by Sebastian's increasing abuse of alcohol.
Charles views the Flyte family this from his position as an outsider looking in. Charles covets their extravagant lifestyle and allows himself to become entangled in the complex family relationships. Charles is attracted to both Sebastian and Julia. He loves the freedom of Lord Marcham's Mediterranean lifestyle Yet Charles also allows Lady Marcham to convince him to watch out for Sebastian, whose drinking has become problematic. Sebastian accuses Charles of being on Lady Marcham's side. When Charles denies this, Sebastian retorts, "That's the trouble with you, Charles. You're not on anyone's side!" Wanting to be on everyone's side, Charles eventually ends up alienated from all.
At one point I thought that the current film was going to end up ridiculing Catholicism. I do think there is an aspect of ridicule. However, I think that has more to do with the early 20th Century setting, and Waugh's experience being very much a part of a minority religion. Certainly, Catholicism is seen as an oddity, with its strange rituals and beliefs. Yes, Lady Marcham is rigid in her belief, dividing the world into those who are and are not Catholic. She uses guilt to attempt to control Sebastian's excesses. Yet, it is precisely their Catholic faith that gives a dysfunctional family something to cling to and believe in. In sharp contrast, Charles has nothing. On his deathbed, Lord Marcham repents for his sins and makes the sign of the cross. This action amazes Charles who assumed Lord Marcham had, like him, seen Catholicism as nothing but superstition. Then Charles expects Julia to criticize her father's return to faith. Far from it; she kneels and prays at his bedside. Julia tells Charles that she will not be separated from God's mercy. All the members of the family return to their faith in some way.
The cast is large, and uneven. Among the principal characters, Hayley Atwell gives the best performance as Julia, conflicted by family and marriage. Veteran Michael Gambon is also very good in the smaller role of Lord Marcham. Even though she is one of the great actresses working today, I wasn't convinced by Emma Thompson as Lady Marcham. She looks wrong for the matriarch, too young, despite the efforts of makeup artist to make her seem older.
So, while not totally successful, I found Brideshead Revisited beautiful to look at and fascinating to reflect on. Certainly there's a lot more to ponder here than in almost all other fare during this parched summer season.
Tom Condon, OP