Rachel Getting Married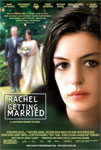 We all know how emotionally draining weddings can be. I'm involved in a lot of them, and know that they can bring out both the best and worst in people. Many weddings are such productions, with stress over every detail. Even the best of families can be frazzled by it all!
Rachel Getting Married includes all the stress and tension involved in the wedding weekend. These levels are multiplied when Rachel Buchman's sister Kym comes home for the marriage weekend from a rehab center. Kym is recovering from a long history of substance addiction. Naturally, she wants to attend her sister's wedding. But everyone, including Kym herself, worries about how she will handle her first visit home in a long time.
The film captures these tense moments very well. When Kym stands to make a toast at the rehearsal dinner, there is nervous silence. What will she say? Will she be inappropriate, and embarrass everyone? Anyone who has ever been in a similar situation will identify with the moment. Rachel Getting Married is full of them. It's an emotional roller coaster of a film. Oscar winning director Jonathan Demme and screenwriter Jenny Lumet bring us up close and personal into the Buchman family on this wedding weekend. At moments I loved them all, at other times I cringed as I witnessed the bickering, and my heart went out to the family when I discovered the hurt and loss in their lives. In the course of the film, we find that Kym's addiction contributed to the death of her younger brother Ethan, which consequently contributed to the divorce of the parents, Paul and Abby. Ethan's presence haunts the weekend. Even on a happy occasion, his memory is never far away.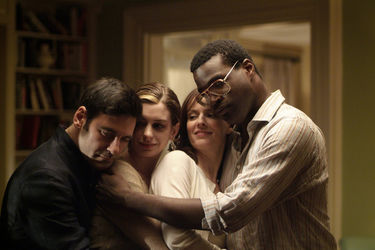 You won't soon forget Rachel's wedding, or her family. Rachel and Kym obviously care about each other as sisters. Yet, there's a lot of anger and resentment that bubbles up between the two. Paul worries about Kym and is overprotective of her. Rachel accuses him of constantly "taking Kym's side." Abby is frequently absent, arriving late to the rehearsal dinner and leaving early from the reception. We see the hurt in Rachel's face when Abby announces she's just going to "slip out early." It's probably not the first time Abby has "slipped out" of her children's lives.
Even though the it goes on too long, and at times seems a bit overwrought, this is a fine film. It's heavy and intense, but never loses hope in the Buchmans. A strong cast is headed by Anne Hathaway as Kym in a performance that's certain to earn this promising young actress her first Oscar nomination. Kym carries all her conflicting emotions on her sleeve, from love of her family to a craving for acceptance to guilt over Ethan's death. Hathaway expresses it all beautifully, at times seeming terribly vulnerable, at other times, pushing everyone away. In a great scene at a 12 Step Meeting, Kym admits that she's not sure she can believe in a God who can forgive her for what she's done. It's impossible not to be moved. Also excellent is Rosemarie DeWitt as Rachel. She's glad to have her sister at the wedding, yet resents Rachel's demands for attention. As the parents, Bill Irwin is great as Paul, trying to keep peace in the family, and Debra Winger is Abby, who keeps a safe distance from the others. What a treat it is to have this great actress back in fine form.
Even though the jumpy hand-held camera effects are overdone, I credit director Demme for this unflinching look into the complex Buchman family dynamics. Despite the rough moments, I'm glad I attended this wedding, and at the end, wish God's blessings on all the Buchmans and the guests at Rachel's wedding.
Tom Condon, OP
St. Martin province
The USCCB Office for Film & Broadcasting classification is L -- limited adult audience, films whose problematic content many adults would find troubling. The Motion Picture Association of America rating is R -- restricted. Under 17 requires accompanying parent or adult guardian.