Enchanted
It's the holiday season, and, after seeing some pretty heavy films, I wanted to see something a little more lightweight and fun. Enchanted is just the movie. It's one of those rare movies that can be enjoyed by both adults and children.
Enchanted begins in the world of classic Disney animation: Giselle, a beautiful young woman, surrounded by "cute" animals (bunnies, chipmunks, deer, and singing birds), dreams of meeting a handsome prince. Conveniently, Prince Edward just happens to come riding by. So, of course, the two immediately fall in love and prepare for marriage the next day. However, the prince's evil stepmother intervenes and sends Giselle through a manhole cover into Times Square. Talk about being out of her element! At this point, the film shifts from animation to live action.
Giselle, totally lost in foreign territory, wanders around New York until taken in by Robert, a divorce lawyer and single father, and his young daughter, Morgan. Before long, Edward emerges from the manhole cover to rescue Giselle and bring her back to the kingdom of Andalasia.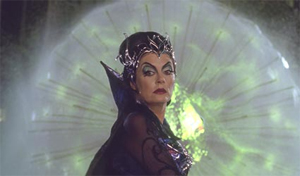 The theme of the naïve, young man or woman dealing with gruff, sophisticated New Yorkers is as old as the movies itself. Unsurprisingly, Robert grows from feeling sorry for Giselle to falling in love with her. Giselle even admits to feeling a new emotion: anger!
Yet, it's all done with a nice light touch, and sense of humor. It's great to see the Disney folks poke fun at themselves. Giselle is always ready to burst into song. When she calls for her cute friends to come in and clean up Michael's messy apartment, rats, cockroaches, and pigeons come to her aid. Along the way, there are some tuneful songs by veterans Alan Menkin (Beauty and the Beast) and Stephen Schwartz (Godspell).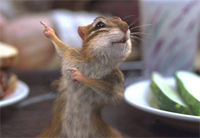 Above all, Enchanted works because of a star making performance by Amy Adams as Giselle. Her transformation from the wide-eyed, perpetually smiling, naive cartoon character, to the wiser woman who has to make choices, is wonderful. Adams always strikes the right note; she's neither syrupy nor condescending. She has good support from both Patrick Dempsey as Robert and James Marsden as Edward, as well as Susan Sarandon as the evil stepmother.
So go, take the kids, relax and enjoy a well-crafted entertaining family film. How often does a family get to do that anymore?
Tom Condon, OP