The Savages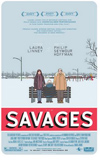 The Savages is a family drama, a genre that's very rare in Hollywood today. In the film, Wendy Savage (Laura Linney) and her brother Jon (Philip Seymour Hoffman) are forced to take care of Lenny (Philip Bosco), the father they hadn't seen in years, when the woman he's been living with dies.
Wendy is an aspiring playwright working as a temp in New York, having an affair with a married man. Jon lives with a Polish woman in Buffalo, where he teaches literature while working on his book on Brecht. Suddenly they are summoned to Arizona and forced to deal with Lenny. They end up bringing him to Buffalo and put him in a nursing home. Wendy decides to stay with Jon for a couple of months until the holidays are over, to help during the transition.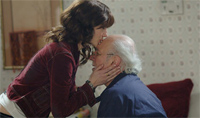 The Savages has been categorized as that new breed of film called "dramedy" (comedy-drama), although it's short on comedy. I found it a pretty bleak film, dealing with heavy subject matter. Both Wendy and Jon (is it a coincidence that they have names from Peter Pan?) are unfulfilled in their lives and careers as they face middle age. The mixed emotions they uncover when they are forced to deal with their distant father are unsettling. As a person with a parent in a nursing home, I can empathize with their predicament and the feelings of guilt, but having no other viable options. Actually, Wendy feels a lot guiltier than Jon, who resigns himself to the situation.
Writer-director Tamara Jenkins is realistic in her approach to the story. The cast is excellent, especially Linney, who received an Oscar nomination for her performance. Yet, it's lacking. Unlike great drama, there is little that's fresh or unique in this family saga. The screenplay fails to have the beauty of language that our great playwrights (O'Neill, Williams, Miller) brought to their family dramas. Wendy, Jon, and Lenny predictably get on each other's nerves. Wendy grouses about the poor condition of the nursing home, although, in my experience, it could have looked much worse.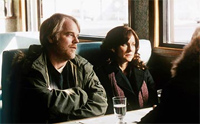 The main redeeming quality to The Savages is that, after the death of Lenny near the end of the film, sister and brother realize that they have become closer to each other through their shared ordeal. They learn to be less critical, more forgiving, and more supportive of each other as they lived their imperfect lives. It's certainly a nice touch, and a worthy theme for a movie. I only wish The Savages had moved more quickly, and with a lighter touch, to make it to its final revelation.
Tom Condon, OP