The Issue: Migration (Immigration)

We recognize that the conditions that compel people to leave their homes out of desperation and lack of opportunities to provide for themselves and their families, must be addressed if an effective and comprehensive response to migration is to be achieved.

Immigration is Key Issue in Gathering
of Latin American and US Dominicans



CIUDAD JUAREZ, MEXICO – August 25, 2008 – For the first time, Dominicans from Latin America and the United States gathered to explore the complexities and layered issues surrounding immigration at a meeting here August 1-4. READ MORE

---
Learn the Issues
: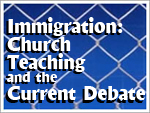 Four PowerPoint presentations that offer a comprehensive look at Immigration: Church Teaching and the Current Debate.

prepared by Chuck Dahm, OP (St. Albert) North American CoPromoter of Justice and Peace
Download Powerpoint presentations:

We pledge to:


Support and utilize the Justice for Immigrants Campaign of USCCB;
Encourage us to respond to the Peoples on the Move Call from Fanjeaux;
Affirm the work of the Dominican Immigration Committee;
Collaborate with other organizations and Dominican groups from North and South America.

---
Things you can do:


Recognize that the issue of Immigration in the United States is linked to the complexity of low wage or non-existent jobs in other countries, in trade agreements that are unfair to developing coutries and the movement of peoples searching for a living wage and better life.

Keep adovcating with US legislators to address the Immigration issues in the United States. The Congress most likely not address this issue again in 2008.

Juarez Document:
By What Right?

Immigration Prayer
(Word)


Related Links:

What the US Bishops are saying on US Immigration Issues?

Latin American Press