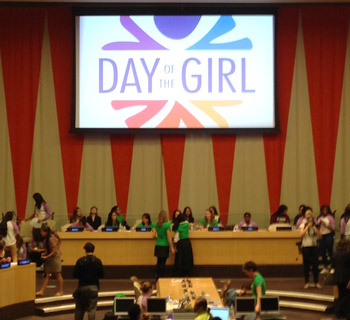 On Oct. 10, the Working Group on Girls organized the International Day of the Girl Speak Out at the United Nations.
Empowering women and girls for a sustainable future
By Kelly Litt, Dominican Volunteer
As the United Nations prepares to move forward with the Post-2015 Sustainable Development Agenda, many are still working to get their voices heard.
The NGO Committee on the Status of Women (CSW) is working diligently to ensure that the voice of women is well represented and accounted for in the post-2015 agenda. This year, the CSW is addressing one area of concern from the Beijing Platform (an action plan document for advancing women's rights) per month.
October's theme focused on women and poverty. On Oct. 16, the CSW held an event titled "Beijing +20 Leaving No One Behind: Women, Poverty, and Participation." The NGO CSW joined with the NGO Committee for Social Development, The World We Want, and UN Women to discuss the connections between women and poverty as well as the need for more participation by women at all levels of the decision making process.
The Beijing Declaration and Platform for Action addressed the issue of poverty facing women. Written in 1995, it explained that more than 1 billion people live in extreme poverty, the majority of whom are women. Poverty is caused or exacerbated by a number of injustices and global issues such as conflict, displacement, environmental degradation, lack of access to education, lack of health care, and disease among many others. One problem with poverty is that it is commonly being more and more feminized, meaning it affects women and girls at a disproportionate rate.
Poverty greatly affects the most vulnerable peoples and contributes to the denial of human rights for women and girls. More than 60 percent of the world's poor are women as the feminization of poverty continues.
Deputy Director of UN Women Lakshmi Puri urged that the participation, equality, and empowerment of women is essential for sustainable development. She said gender inequality is the mother of all inequalities, and women are the key to sustainable poverty eradication. Puri continued to explain that this is, and should be, the century for ending inequality, patriarchy, and discrimination against women once and for all, but we don't have to wait until the end of the century to do so.
The Beijing Platform explains that in order to eradicate poverty, women and men must participate fully and equally in forming macroeconomic and social policies and participate in decision making and government. This Beijing Platform was created nearly 20 years ago, yet those same systemic and root causes of discrimination and poverty have not been addressed.

One billion people still live in extreme poverty, and while the number living in poverty is lessening, global inequality continues to grow as the gap between the world's richest and poorest widens.
The potential and hope of breaking the cycle of poverty and discrimination against women remains with girls around the world. On Oct. 10, the Working Group on Girls organized the International Day of the Girl Speak Out at the United Nations. This event attracted more than 500 attendees, mostly young girls in middle and high school, as girls from around the world shared their stories of pain, hope, struggle, and triumph. The theme centered on empowering adolescent girls in the cycle of violence and included multimedia performances that highlighted personal stories submitted by girls from across the globe.
Earlier that day, Malala Yousafzai became the world's youngest Nobel Peace Prize recipient at age 17. Malala, a young woman from Pakistan, is internationally known as a youth activist and promoter of girls' rights. She remains a great role model and inspiration to young women everywhere. She won this prize for speaking out, for pointing out injustices, and for refusing to remain silent in the face of discrimination and fear. Malala, just like the 500 attendees to the Girls Speak Out, understands that girls are leaders and can help propel communities, local government, and the international community to make changes and achieve justice for everyone.
I, along with many other members of the audience, shed tears as we listened to both the stories and struggles and the joys and triumphs told by girls around the world. Their stories were far too common as they talked about issues dealing with family and relationships, education, sexual violence, beauty and body image, poverty and child marriage, and empowerment. Young women around the world deal with similar struggles and discrimination and older women look back and remember the days when they dealt with similar issues as young women. The problem is that the world is still dealing with inequalities toward women and girls; this should not be a continuous and predictable cycle.
I believe if Saint Dominic, St. Thomas Aquinas, St. Catherine of Siena, St. Martin de Porres, Bartolomé de las Casas, or any of the other influential Dominicans were with us today, they would see the importance of the advancement of rights for women and girls. They would encourage and challenge girls to speak out and to reach their full potential. They would demand these injustices be stopped. That's what they would do, that's what we should do as well. What's stopping us now?
Margaret Mayce, OP (DLC/Amityville)
NGO in Special Consultative Status at the United Nations
Dominican Leadership Conference
211 East 43 St. Rm 704
New York, NY 10017
email: Margaret Mayce, OP