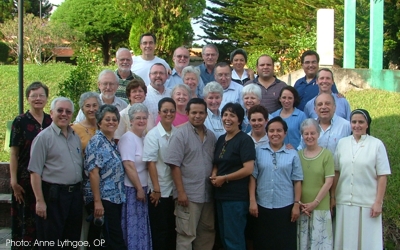 Dominicans Make New Connections
Between North and South America
SAN SALVADOR [12/08/05] -- An extraordinary meeting was held in San Salvador, El Salvador December 1-5, 2005. Thirty Dominicans from Latin America, the Caribbean and North America came together to create stronger ties with one another; to share our present and future justice collaboration and remember the martyrs in El Salvador.
"Our time here with our brothers and sisters from Canada and Latin America has been enriching and full of learnings," said Mary Ellen O'Grady, OP, DLC Executive Director. Miguel Concha, OP, Justice and Peace Promoter for Latin America said, "We embraced the four women martyrs as the living dialogue between South and North/North and South."
Mary Ellen was part of the DLC delegation to the meeting whose purposes were 1) to make stronger connections among Dominicans in the North and the South; 2) to share experiences of justice and peace as sisters and brothers from South to North and North to South; 3) to celebrate our collaboration past and present, and to dream about our future together and 4) to remember the martyrs and invite them to give us new life.
A more detailed public statement about the meeting and its outcomes is here. The meeting was conducted simultaneously in Spanish, English and French.
Some of the highlights of the gathering included a visit to the gravesite of the four women martyrs: Maryknoll Sr. Ita Ford, Sr. Maura Clark, Sr. Dorothy Kazel and Jean Donovan. As well as remembering the martyrdom of Archbishop Oscar Romero and the Jesuits of the University of Central America (UCA).
Jon Sobino, SJ, Central American theologian helped the group reflect on the meaning of martyrdom, both in the people known to us, like the four women and Oscar Romero, and in the thousands of unknown people who died in civil war, violence, hunger, poverty and disease.
The group recognized that North America can no longer pursue justice and peace without active collaboration with Latin America. Work for justice and peace is ineffective without the voice of the poor and the insight of Dominicans in Latin America. At the same time, Latin American can no longer pursue justice and peace without North America. Immigration, work and free trade agreements emerged as central concerns.
The meeting was initiated at the 2004 DLC Annual Meeting by Yvon Pomerleau, OP (St. Dominic) provincial of the Canadian province, who called for a greater collaboration between North and South. The meeting was planned for El Salvador to coincide with the 25th Anniversary of the deaths of the four church women.
A special moment of the meeting occurred at the Cathedral in San Salvador as the group joined hundreds of North American religious, including Maryknoll Sisters, Dominicans from Racine, Houston, Grand Rapids, San Rafael and Adrian, joined the people of San Salvador in a festive and hopeful celebration of Eucharist. There was also a large delegation of member of SHARE and LCWR present at the celebration.
Participants includes delegates from CODALC, the Confederation of Dominicans in Latin America and the Caribbean, CIDALC, the Inter-Provincial Conference of Dominicans in Latin America and the Caribbean, the Dominican Leadership Conference (USA) the Dominicans of Canada, DSI, Dominican Sisters International and participants from Santa Sabina. Margaret Ormond, OP and Chrys McVey, OP were among the delegates. Roseann Schlitt, OP (Adrian) and Marcio Couto, OP (Brazil) served as facilitators. Brian Pearce, OP (St. Martin) and Michel Cote, OP (Canada) translated.
DLC participants included: Mary Ellen O´Grady, OP (DLC/Sinsinawa), Anne Lythgoe, OP, (DLC/Elkins Park) Eileen Gannon, OP, DLC/Sparkill) Roberto Corral, OP, (Holy Name) Emiliano Zapata, OP (St. Martin) Alicia Alvarado, OP, (Columbus) Cecilia Canales,OP, (Mission San Jose) Rosa Monique Pena, OP (Adrian) and Gemma Doll, OP (Great Bend).
source: DomLIfe.org
Anne Lythgoe, OP