Preaching in the Sunday Assembly: A Pastoral Commentary on Fulfilled in Your Hearing
Edited by James A. Wallace, CSsR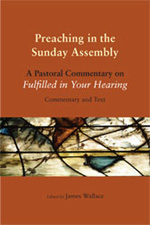 What should preachers aim for in Sunday preaching? In 1982, the USCCB document "Fulfilled in Your Hearing: The Homily in the Sunday Assembly" (FIYH) answered this question. Here, in a pastoral commentary on "Fulfilled in Your Hearing," several Catholic scholars in homiletics, liturgy, and biblical studies both appreciate the abiding insights of "Fulfilled in Your Hearing" and also propose areas for continuing reflection. Following the four sections of the Bishops' document—The Assembly, The Preacher, The Homily, and Homiletic Method—this commentary emphasizes the document's continuing importance for the initial and ongoing formation of Catholic liturgical preachers, while also inviting conversation about present-day cross-cultural, liturgical, and communication concerns for Catholic preaching.
Priests, deacons, seminarians, bishops, and all others engaged in the preaching task are invited to deepen their appreciation of the homily's unique role in the liturgical life of the church and to stir their enthusiasm for preaching and preaching preparation.
From the introduction: "The road that led to this pastoral commentary began with a close rereading of FIYH by the membership of the Catholic Association of Teachers of Homiletics (CATH) at an annual meeting in West Palm Beach in November 2006…" The following Dominicans were among those collaborating in this project, and are listed as members of the CATH writing team:
Fr. Gregory Heille, OP (project direction), past-president of CATH and project director; professor of homiletics and vice president and academic dean at Aquinas Institute of Theology, Saint Louis, Missouri; editor of "Theology of Preaching: Essays on Vision and Mission in the Pulpit" (Melisende, 2001)

Sr. Theresa Rickard, OP, a Dominican Sister of Blauvelt and president and executive director of RENEW International, Plainfield, New Jersey

Sr. Mary Margaret Pazdan, OP, professor of Biblical Studies at Aquinas Institute of Theology, Saint Louis, Missouri; promoter
of preaching for the Sinsinawa Dominican Sisters, Wisconsin; author of "Becoming God's Beloved in the Company of Friends: A
Spirituality of the Fourth Gospel" (Wipf and Stock, 2007)

Sr. Honora Werner, OP, Provincial Councilor, Dominican Sisters of Caldwell, New Jersey; director of the Doctor of Ministry in Preaching at Aquinas Institute of Theology, Saint Louis, Missouri
James A. Wallace, CSsR, is professor of homiletics at Washington Theological Union, Washington DC. He is author of "Preaching to the Hungers of the Heart: The Homily on the Feasts and within the Rites and The Ministry of Lectors" (Liturgical Press), and coauthor of "Lift Up Your Hearts, Homilies for the A, B, and C Cycles" (Paulist Press).