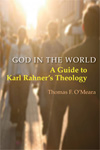 God in the World: A Guide to Karl Rahner's Theology
by Thomas O'Meara, OP
A century has passed since Karl Rahner's birth, and two decades have passed since his death. Yet this remarkable theologian has left a legacy of wisdom as relevant today as it was during Rahner's time. In God in the World: A Guide to Karl Rahner's Theology, Thomas O'Meara looks anew at Rahner's insights and theological principles. Through O'Meara's clear and engaging style, readers will discover—or rediscover, as the case may be—how invaluable Rahner is for the church today.
ISBN:978-0-8146-5222-0

---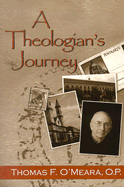 A Theologian's Journey
by Thomas O'Meara, OP
A memoir of a theologian's education and of the church that came into being at the Second Vatican Council. O'Meara offers an intelligent and insightful picture of his own theological and spiritual development.
ISBN-13: 978-0-8091-4078-7
ISBN-10: 0809140780

---

Thomas Aquinas Theologian
by Thomas O'Meara, OP
O'Meara considers Aquinas the theologian and his influence, past and present. O'Meara focuses on Aquinas as teacher and preacher, and theology as the subject of his thought and most of his writings. Studying the Summa Theologiae as well as providing an overview of six centures of interpretation, O'Meara shows how few have understood the structure and intent of Aquinas' theology.
ISBN10: 0-268-04201-2
ISBN13: 978-0-268-04201-9