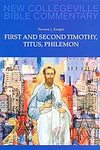 First and Second Timothy, Titus, Philemon (New Collegeville Bible Commentary)
by Terrence J. Keegan, OP
Comprehensive and understandable, the New Collegeville Bible Commentary series brings the timeless messages and relevance of the New Testament to today's readers. With recent scholarship, this series provides vital background and addresses important questions such as authorship and cultural context. The New Collegeville Bible Commentary includes New American Bible translation and will appeal to preachers, teachers, Bible study groups, and Bible readers as it moves passage-by-passage through the text. In First and Second Timothy and Titus, Father Terence J. Keegan emphasizes leadership and organizational issues of the early Christian community. Second Timothy in particular gives the greatest amount of biographical material we have about Paul. Lastly, Keegan approaches Philemon as a masterpiece of Pauline persuasion regarding a slave's freedom and the new obligations of joining the family of faith.
ISBN: 0814628680

ISBN-13: 9780814628683