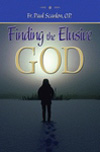 Finding the Elusive God
by Paul Scanlon, OP
Whether you are challenged to find God in global issues like poverty, hunger, and natural disasters or simply trying to find him among the right-now, me-first society we live in, the answer is right in front of us! Through moving stories of his service to the poor, Father Paul Scanlon shares his struggles to change his own vision to see Christ in the ordinary people and extraordinary misery around him.
Father Scanlon's moving accounts reveal the challenge he faced in finding God's hand amid ruin while capturing the deep faith that brings peace to those otherwise without hope. These beautiful anecdotes demonstrate how great love can bring light to our darkest hours as well as new perspective to the priorities of our lives. This modern day, real-life parable acknowledges and inspires your struggle to keep God first in your daily life. Your perspective on life's priorities will be transformed through Father Scanlon's humble and empathetic story-telling skills. Find the elusive God in your hectic life and put your faith into action!