Becoming God's Beloved in the Company of Friends, A Spirituality of the Fourth Gospel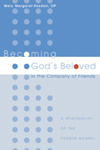 by Mary Margaret Pazdan OP

The book offers a way to deepen commitment to live as a disciple of Jesus personally and with others. It bridges the gap between a first-century biblical text and twenty-first-century readers who hunger for genuine spirituality today. Each chapter focuses on a few stories and a few teachings to illustrate a particular characteristic of becoming a disciple.