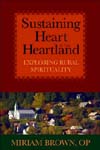 Sustaining Heart in the Heartland: Exploring Rural Spirituality
by Miriam Brown, OP, Editor
With grassroots knowledge and experience, the authors explore the richly varied forms of American rural spirituality, and what it means to be a people of faith while facing the daunting challenges of today's increasingly hand-pressed rural way of life. Part one describes characteristics and themes of rural spirituality, as well as its hopes and struggles. Part Two examines ten "pieces" in the quilt of relationships that make up rural life--the land, families, rural congregations, family farming, alternative movements, grassroots organizations, local communities, institutions, youth, and health ministries--with practical pastoral suggestions for each. Part Three provides three versions of expanding identities of local congregations. The book concludes with an open letter to the rural community, a lectionary of the seasons, and heart-sustaining prayers and rituals. This book invites all those associated with the heartland to work together to nurture the spiritual vigor of the rural community.
ISBN: 0-8091-4319-4