After Wittgenstein, St. Thomas by Roger Pouivet
by Michael Sherwin, OP, Translator
In this slender volume Roger Pouivet advances an arresting argument. He asserts that the work of the later Wittgenstein can help us discern the lasting value of Thomas Aquinas's philosophical anthropology. He also holds that Aquinas can
help the reader avoid an influential misreading of Wittgenstein. Pouivet draws on the work of Elizabeth Anscombe, Peter Geach, and Anthony Kenny to advance this twofold argument. His point of departure is Kenny's observation that "Wittgenstein's importance in the history of philosophy, and in particular of the philosophy of mind, lies especially in his criticism of the Cartesian framework within which philosophy and psychology had been conducted throughout the modern era, well beyond the critique of Kant. One sideeffect of Wittgenstein's liberation of philosophy from Cartesian prejudices is that it enables those who accept it to give a more sympathetic welcome to the writings of pre-Cartesian philosophers, and in particular medieval scholastics." By leading the reader through Wittgenstein's critique of the dominant modern conception of "interiority," Pouivet shows how Aquinas's externalist view of knowledge and moral agency still offers a viable alternative. In the process he also pushes the reader to consider the extent to which his or her own understanding of the human person remains haunted by a lingering Cartesian dualism.

ISBN: 1-58731-015-5

---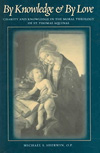 By Knowledge & by Love: Charity and Knowledge in the Moral Theology of Thomas Aquinas
by Michael Sherwin, OP
By Knowledge and By Love represents a major contribution to Thomistic moral theology and philosophy by providing a thoughtful examination of Aquinas' psychology of action and his theology of charity. Through a comprehensive analysis of the relation between intellect and will, knowledge and love, and charity and the infused intellectual virtues, Sherwin concludes that, far from divorcing the will from reason, Aquinas in his later works integrates reason and will more closely together.
ISBN: 0813213932