Walking with Saint Dominic


Peter B. Lobo, OP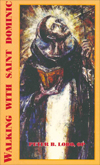 Walking with Saint Dominic is a collection of reflections and meditations on St. Dominic's way of following Jesus. To walk with St. Dominic means to walk with Jesus, for St. Dominic teaches us how to walk in the footsteps of his Master. His genius lies in the way in which he brought together into a wonderful synthesis the two main facets of Jesus' life, namely, his contem­plative union with his Father in quiet prayer and reflection and his untiring preaching of the Good News to bring healing and salvation to people.



Peter B. Lobo, OP

, former novice master, major superior and lecturer in theology at the Pontifical University of St. Thomas Aquinas (Angelicum), Rome, Providence College, U.S.A., and the University of Santo Tomas, Philippines, is a member of the Province of India of the Friars of the Order of Preachers and presently a lecturer in theology at St. Charles Seminary, Nagpur, India. He holds a doctorate in theology from the Angelicum, and has taught, given conferences and preached in India and several other parts of the world. He edited and published The Genius of St. Dominic by M.-H. Vicaire, OP and Mirabilia Descripta by Jordan of Severac, OP. For several years he was the editor of Dominican Ashram, a periodical on Dominican life and mission that served English-speaking Dominicans the world over.