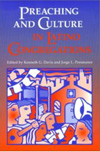 Preaching and Culture in Latino Congregations
by Jorge L. Presmanes, OP
Good preaching and good ministry can happen only when the minister respects the way that the word has become flesh in a particular community: the way stories are told, children are raised, history is remembered, art is made. Wonderfully, this immersion is no chore. It is a delight. With an emphasis on preaching but a concern for all aspects of ministry, the eight authors of the articles in this book explore the blessing that is the Hispanic presence in the United States. Contributors include Rosa María Icaza, María Luisa Iglesias, SC, Jaime Lara, Juan J. Sosa, Raúl Gómez, and Victor Alvarez. Their words will open the eyes of non-Hispanics and have wisdom for Hispanics themselves as all of us approach a privileged moment for the Catholic Church in the United States. Some of the articles in this new book appeared in the Fall/Winter 2000 issue of Chicago Studies.
ISBN: 9781568543635