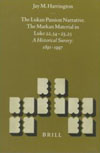 The Lukan Passion Narrative, The Markan Material in Luke
by Jay M. Harrington
This study traces the debate surrounding Luke's use of the Gospel of Mark and special sources, such as Proto-Luke, in a section of the passion narrative (Lk 22,54-23,25). The survey covers roughly the period from the 1880's to 1997. Part I details the development from P. Feine to the 1960's. Part II begins with G. Schneider continuing up through 1997. In treating each scholar's position, the author reviews their underlying Synoptic theory, their source theory in the passion in general, then the trial of Pilate, and finally the trial before Herod. Part III is devoted to an interpretation of Lk 23,6 - 16. Part IV contains the list of abbreviations, the bibliography, and three appendices: (1) Special LQ vocabulary and constructions according to J. Weiss; (2) Lukan priority theories; and (3) the Gospel of Peter and its relation to the Herod pericope. Part IV concludes with the name index. The Lukan Passion Narrative will be particularly useful to those concerned with Luke's redactional technique, Source theories, Minor Agreements, and the history of exegesis.
ISBN-10: 9004115900
ISBN-13: 978-9004115903