The Praxis of the Reign of God : An Introduction to the Theology of Edward Schillebeeckx
by Mary Catherine Hilkert, OP, Editor and Robert J. Schreiter, Editor
The first edition of this clear introduction to the major aspects of the work of Schillebeeckx was hailed as "an indispensable handbook of Schillebeeckx's theology." This revised edition includes a new essay on God and creation, and presents a never before published reflection of Schillebeeckx speaking about God today.
ISBN 10: 0823220230
ISBN 13: 9780823220236

---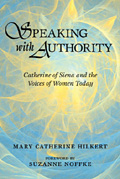 Speaking with Authority: Catherine of Siena and the Voices of Women Today
by Mary Catherine Hilkert, OP
Second Edition
In this 2001 Madeleva lecture, Mary Catherine Hilkert reflects on the person and impact of Catherine of Siena as a means to examine the challenges facing contemporary women of faith. Known for her wisdom as well as her forthright speech, her role as counselor to the pope as well as church critic, her preaching as well as her prayer, Catherine can be a remarkable companion in hope for women today.
After a look at the Madeleva Manifesto and noting that its emphasis on equality, dignity and justice echoes the ideas of Catherine, the author examines Catherine's 14th-century life and ministry. She then uses that as a mirror through which to explore "three interrelated aspects of the source and authority of the works of faithful women in every age: 1) the authority of vocation, 2) the authority of wisdom and 3) the authority of compassion."
Hilkert believes that as we ponder what it means for women to speak with the authority of the Spirit, "Catherine's words and witness can offer insight and challenge." As with all the preceding volumes in this series, this book speaks to contemporary women, especially with its emphasis on women's roles and authority in the church. Persons interested in spirituality, feminism or history will be inspired by it as well.

ISBN-10: 0809140314
ISBN-13: 978-0809140312