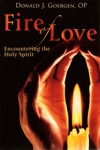 Fire of Love
Encountering the Holy Spirit
Donald J. Goergen, OP
This work connects the Holy Spirit not only to our personal and ecclesial lives, but also to her presence and action outside the church in other religious traditions, in the world and in all of creation.
ISBN 0-8091-4408-5.
226 pages, $19.95
2006 pub date.



Read a Review
by Pat Walters, OP

The Theology of the Priesthood



Donald J. Goergen, OP
and Ann Garrido, Editors



By engaging in conversation with those whose experience, perspectives, and theological traditions vary from their own, the contributors to The Theology of Priesthood explore in detail the fundamental questions being asked about the ordained priesthood

.

10 Digit ISBN:
0-8146-5084-8
Specifics: Paper,
232 pp., 6 x 9



Donald J. Goergen, O.P., is a preacher, teacher, lecturer, author, and theologian who taught systematic theology for many years.






The Mission and Ministry of Jesus (Sep 2003)

The Death and Resurrection of Jesus (Sep 2003)

The Theology of Priesthood by Donald J. Goergen, Ann Garrido, and Benedict M. Ashley (Dec 2000)

The Jesus of Christian History: A Theology of Jesus Series; Volume 3 (Dec 2002)


Jesus, Son of God, Son of Mary, Immanuel (Sep 2003)

The Jesus of Christian History (Theology of Jesus) (Jan 1992)